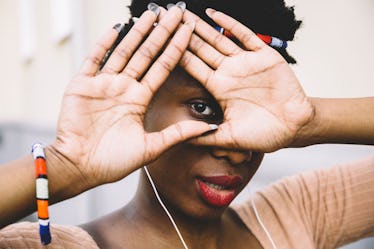 The Best Fall Presets For Insta Are Here Just In Time For Your #SweaterWeather Pics
You know it's fall when you see the hashtag #sweaterweather. In that moment, you realize the world has come to terms with the end of summer and is ready to snuggle up. Girls from campus or around your office are posting pictures in pumpkin patches, and talking about their apple picking plans. So, inevitably, you get on board and start thinking about cute pictures you could get in your flannel, or throwing up the fall leaves. What will fit in with your feed? Let's be honest: It's all about creating an aesthetic, and the best fall presets for Instagram are here just in time for your seasonal photo shoot.
Going to the corn maze and the fall fair has become a tradition amongst you and the girls. You get to the ticket booth, grab some cotton candy, and wander around a field that's designed for getting lost. Throughout your adventures, you snap some pictures with your camera and tell your bestie to throw a peace sign toward the sky. The Ferris wheel really makes such a bright and beautiful background, especially in that pink sky.
When you get home, you pull out your laptop and favorite editing programs. Out of all your friends, you're the artsy one. You put a lot of effort into your 'Gram, and have fine-tuned your photography skills. But, over the past few months, you discovered that Lightroom presets make the process much easier. These five are everything, for you and your #sweaterweather pics.