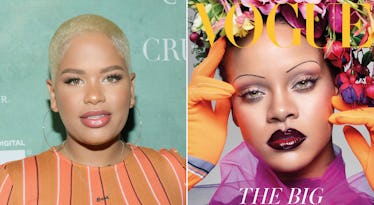 Beauty YouTuber Alissa Ashley Recreated Rihanna's 'Vogue' Cover & I Had To Do A Double Take
Emma McIntyre/Getty Images Entertainment/Getty Images // Vogue
While I often watch beauty gurus' YouTube videos to see what unique and innovative looks they create, sometimes their recreations of pre-existing or well-known beauty looks are just as intriguing and impressive. Case in point: Alissa Ashley's recreation of Rihanna's British Vogue Cover, which took me more than a second to recognize as a copy and not the real thing, because it's really that good.
On July 31, Rihanna took to Instagram to reveal the cover shot that would appear on British Vogue's September issue. We were treated to an up-close shot of her smizing and Vogue-ing with pencil-thin, drawn-on brows, and a stunning floral headpiece — a mood only Rihanna could rock... or so I thought.
On Aug. 8, Ashley uploaded a video called "I TRIED RECREATING RIHANNA'S VOGUE COVER!" to her YouTube channel, which currently boasts an impressive 1.5M followers, in which she was able to recreate the look flawlessly, right down to the (teeny tiny) brow. While so many fans of the "Wild Thoughts" singer have been busy focusing on the negative, like the Rihanna vs. Beyonce Vogue cover "competition" (ugh) or the threat of thin brows making a beauty world comeback, I'm choosing to focus on the positive, praising Rihanna for rocking that look and praising Ashley for what is literally the most accurate and impressive YouTuber recreation I've ever come across.
Here's the original British Vogue cover, as 'Grammed by Rihanna herself:
And here's Alissa Ashley's recreation, posted to her Instagram, which currently has over 850K followers:
The makeup is spot-on and stunning, but the fact that Ashley went all out with the poses and the props (that floral headpiece, tho!) is what really makes her take a total success. In her video, Ashley explains that recreating the cover is a fun and challenging way for her to combine her makeup skills and her passion for photography, and she takes her viewers along through the entire prepping process, from DIYing the flower crown to the glam itself.
BTW, If you aren't already familiar with Ashley and her channel, it's time to become a fan, because she's quickly making a name for herself as a major player in the beauty world. She recently collaborated with NYX on the creation of an inclusive, 45-color shade range for their Can't Stop Won't Stop Foundation ($15, nyxcosmetics.com).
With a rise in popularity, of course, inevitably comes some haters. Before starting the makeup, Ashley even told her viewers vlog-style about her nerves regarding the video, and how she was almost too nervous to go through with it because of the online hate that seems to come no matter what anyone does. "I just get so nervous, because you know, it's just weird, even though obviously this is not a creative, I didn't come up with the whole look itself," she admitted to her camera. "But I just feel like people, they become so mean, even when you do recreations, like 'Oh yeah, you're not her'... It's very nerve-racking."
Fortunately for us, though, she did decide to go through with it, and her initial nervousness makes me even more thrilled that the look turned out so well. In her video, Ashley used lots of Fenty products, considering Rihanna's brand was, of course, used on-set, but she admitted she doesn't know exactly what products were used, so she took her best bets based on the cover. The makeup artist behind Rihanna's look, Isamaya Ffrench, has declined to give curious beauty lovers any insight on the tools she used to achieve the look, especially the unique brow moment, which she told Vogue UK, "It's an industry secret, ha!"
Some notable Fenty products Ashley used in her recreation were the Fenty Beauty Pro Filt'r Foundation ($34, fentybeauty.com), the Flyliner Longwear Liquid Eyeliner ($20, fentybeauty.com) to create the super-thin brows, and two Mattemoiselle Plush Matte Lipsticks ($18, fentybeauty.com) in shades "PMS" and "Ma'Damn." She also mentions potentially adding in a touch of Stunna Lip Paint ($24, fentybeauty.com) for a pop of bright red when it's time to take the shot.
After all that's done, Ashley headed to her studio and shot the long-awaited recreation photos, which naturally turned out incredible:
I normally wouldn't say this, but Rihanna who?!
Clearly, Ashley totally nailed her transformation, and hopefully overcame her nerves in the process. I'm impressed with her accuracy, but even more impressed that she's now the second person to actually pull off this whole skinny eyebrow trend. If you'd like, check out the entire transformation video below.