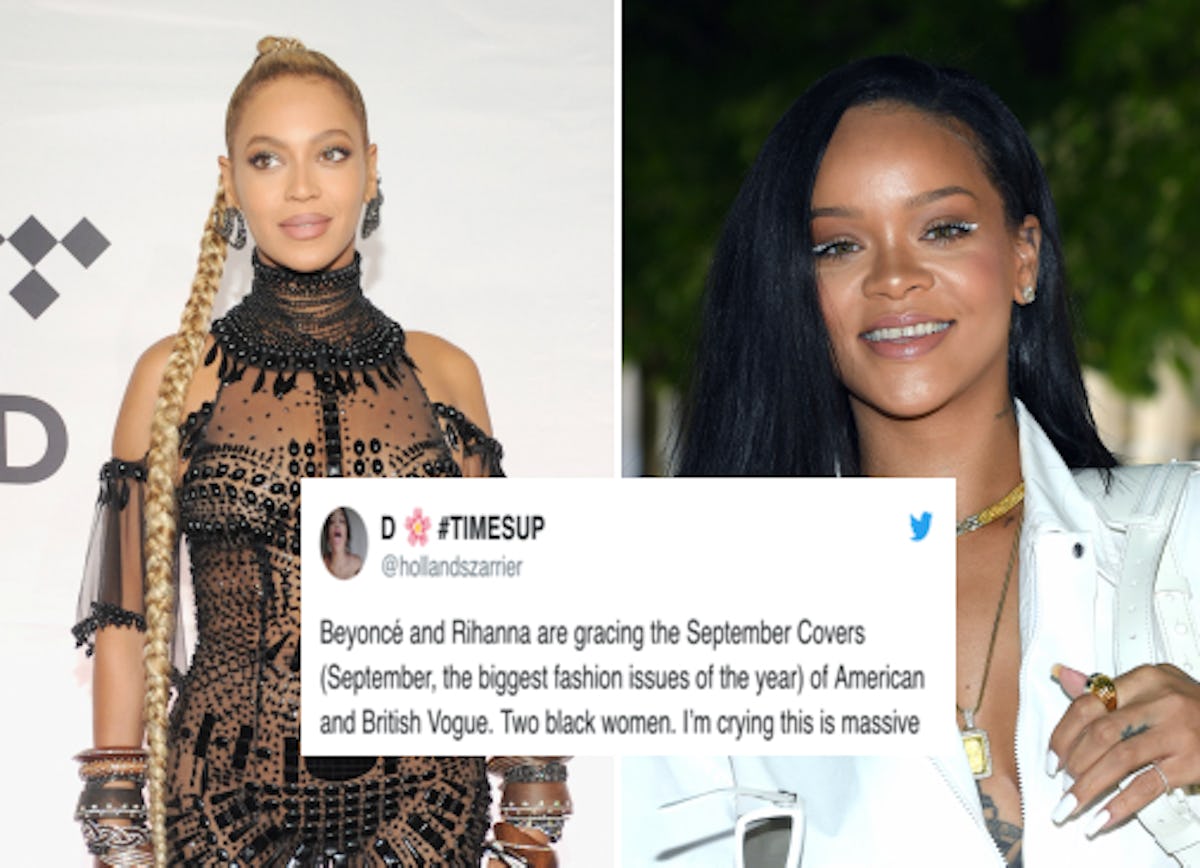 Twitter Is Arguing About Beyonce & Rihanna's Flower Crowns But They're Both Flawless
Brad Barket/Stringer/Getty Images Entertainment/Getty Images & Pascal Le Segretain/Staff/Getty Images Entertainment/Getty Images
Rihanna recently debuted her cover of British Vogue's September issue, and a few days later, American Vogue released its September cover with Beyoncé. The singers looked equally gorgeous, but their photos were also somewhat similar. After both women graced their respective covers with floral headpieces, some of the tweets about Beyonce & Rihanna's flower headpieces that began circulating weren't so celebratory and pitted the two against each other.
Rihanna's British Vogue cover was first posted on July 31, 2018, and everyone was (rightfully so) surprised by the star's pencil-thin eyebrows. The look was daring and naturally caused quite a social media stir. The other part of Rihanna's look, on the cover as well as the inside spread, featured the Barbadian beauty wearing a few different floral headpieces. I'm not talking about Coachella-style flower crowns; rather, these could more closely be described as oversized floral sculptures.
A few days after RiRi's cover hit the internet, Beyoncé's Vogue cover dropped on Aug. 6, 2018. Bey's issue of Vogue is notable in that the magazine hired photographer Tyler Mitchell as its first-ever black photographer to shoot a cover story. Queen Bey had a hand in that, as well as control over most of the rest of the shoot's direction, something most cover stars couldn't even dream of having. But what much of Twitter ended up talking about, however, was the fact that Beyoncé, like Rihanna, was also wearing a floral headpiece. Now, rather than praising the two stars for the stunning photos, social media is on fire trying to figure out who wore it first and who wore it better.
Rihanna wore not one...
Not two...
Not three...
...but FOUR floral headpieces in her issue of British Vogue, shot by photographer Nick Knight. So yes, it's been established that RiRi was very into this look, but it doesn't mean that no one else can wear it.
Beyoncé's floral headpiece was an equally colorful look, and the singer sported it like a true diva. As amazing as both women look, social media was unfortunately eager to pit the two covers against each other.
Many Twitter users were arguing over which celebrity was first to wear the floral style.
The timeline of the shoots was hotly debated. Let me say, though, just because Rihanna's cover was released first, doesn't necessarily mean that her photo shoot happened first. For all I know, the shoots were happening at the exact same time.
At the risk of seeming like she copied Rihanna, much of the BeyHive came to their queen's defense, showing that Beyoncé has worn similar looks in the past, not only on magazine covers, but in many of her other projects.
The BeyHive really wanted to prove that Beyoncé did it first. The thing is, though, it doesn't matter who wore it first!
These women are both so successful, so it's a shame that some people are hyper-focused on minutia such as flowers instead of their remarkable accomplishments.
Two black women on the covers of two major fashion magazines — their biggest issue each, nonetheless — is something that should be celebrated.
There's really nothing to argue over here.
#Legends.
So major!
Honestly, amen.
Rihanna and Bey can each wear floral headpieces or whatever else they d*mn well please, and they'll look equally flawless doing so.