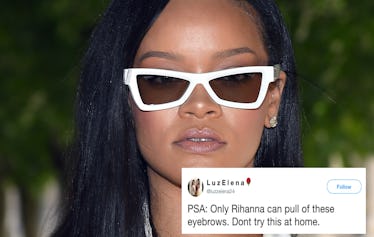 Rihanna's Eyebrows Are Basically Non-Existent & Twitter Has Feelings
Pascal Le Segretain/Getty Images Entertainment/Getty Images
There's basically a picture of Rihanna next to the word "trendsetter" in the dictionary. The Barbadian singer, designer, fashionista, entrepreneur, and all around boss can pull off anything, or maybe, almost anything. Rihanna's eyebrows on her British Vogue cover are different, to say the least, and I'm not sure how to feel about them.
Eyebrow trends come and go, but as of late, the most popular style has been immaculately arched brows that are densely filled in. A sucker for good brows, myself, I got my eyebrows microshaded (and loved the results, by the way) — I now have effortless, filled-in brows every morning (#iwokeuplikethis). Except that I woke up the other morning to an image of one of my idols, who previously had similarly dark brows, with pencil thin, barely there eyebrows?! Is this the trend now? Should I make a new eyebrow appointment? What's going on?
If you're confused, first, remember that Rihanna is a god, and I merely follow in her footsteps to the best of my mortal abilities. As such a heavenly being, Rihanna took her rightful place on the September 2018 cover of British Vogue, but she looked a little different than normal. See if you can spot the difference.
Hello, brows! Or actually, lack thereof. I'm tempted to say that Rihanna is unrecognizable in this photo but, honestly, she's so iconic I doubt that would ever happen. But seriously, those eyebrows are so unexpected.
The cover photo was shot photographer Nick Knight and styled by British Vogue's editor-in-chief Edward Enninful. Enninful, according to British Vogue, is the one who came up with the idea for RiRi's thin AF brows. Makeup Artist Isamaya Ffrench was the engineer behind those slender brows, and the rest of RiRi's makeup, using Fenty beauty products, of course.
The second cover, presumably the subscriber version, tries to distract from Rihanna's thin brows with a giant floral halo around her face, but alas, they're still the center of attention.
Rihanna tweeted out some of the interior photos, also shot by Knight, and those eyebrows are unreal.
So many floral headpieces, so little eyebrows. Eyebrow trends over the years are an interesting thing to look at — the '20s and '30s saw similarly thin styles, and the '00s brought them back in full force. And now, is Rihanna doing that again? I'd say, no. This look was likely just an unconventional way to spice up a photo shoot and bring attention to the magazine's new issue. To that, I say, well done, but please let it end there.
Twitter had lots of feelings about the brows.
People were nervous Rihanna's look would mean bringing back the thin eyebrow trend.
It seems like people really don't want this trend to come back, though.
There's a serious schism between the world's love for Rihanna and for Rihanna's eyebrows.
Just because Rihanna can do it, doesn't mean you should do it.
Mad respect, but no.
Warning: Don't try this at home.
Stay strong, keep your brows!
The general consensus is, "I love Rihanna, but..."
Rihanna, keep doing you.