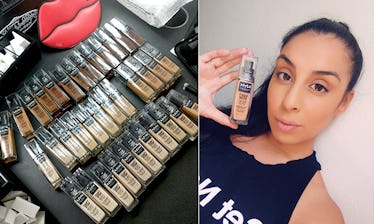 This New $15 Foundation Comes In 45 Shades & Hides All Your Secrets
Stephanie Montes
It's difficult to describe my makeup style because it's constantly changing. I love a good no-makeup makeup look, but I can also rock a red lip on any given workday. But no matter what, the one thing I ask from my makeup is that it delivers exactly what I need, when I want it. If I'm going for a beachy look, I reach for a dewy and glowy foundation that shows off my freckles. However, if I'm going full glam, I need a foundation that's going to cover everything. That's where this NYX Can't Stop Won't Stop Foundation review comes in. Teaser: The brand new formula is so good, it made today a full-glam kind of day.
One layer of NYX's new full-coverage foundation made redness disappear and gave me an even skin tone. A second layer of it made my freckles nonexistent. I've used some pretty heavy-duty foundations before (you know, on my really glam days), but there's a price to pay for really good coverage. For one, it never feels like skin, no matter how much you blend it. I'm not naming names, but there's this full-coverage foundation in my vanity that looks so good, but makes me itch. And secondly, it doesn't always stay on your face. Some really heavy full-coverage formulas transfer onto your fingers, on your clothes, even other people's clothes (have you ever hugged someone with a full face of makeup?
The new NYX Can't Stop Won't Stop Full-Coverage Foundation went on smooth and stayed on for hours (I'm currently on hour 5). I usually get really oily in the T-zone, but there isn't a single spot of shine anywhere on my face. To further put it to the test, it's 90 degrees outside and I don't have air conditioning in my house. I can feel myself sweating through my makeup, but when I blought off beads of sweat, only moisture is left on my tissue — no foundation transfer at all.
Admittedly, the foundation is much more matte than I usually go, but it doesn't look dry at all. Think: Matte coverage in a velvety way, not a cracking, chalky kind of way.
And here's where things get really exciting. The range of shades is huge, 45-shades huge! The popular makeup brand teamed up with YouTube beauty vlogger Alissa Ashley and advocate for diversity to develop the extensive shade range. She often shares how she mixes multiple shades at home to make her perfect color, but now she, nor us other beauty junkies, have to worry about that anymore. Ashley even had the opportunity to visit the NYX Cosmetics lab where she helped mix current shades and add different undertones to get those in-between shades. Needless to say, if you constantly find yourself playing chemist at your makeup station, those days are far behind you.
Even the shade numbers have been tweaked to determine those middle ranges. While some are numbered in whole numbers (like mine is 12 — Classic Tan), others are marked by decimals, like 15.9 — Warm Honey.
And because behind every great foundation, is a hard-working primer, NYX also created the Can't Stop Won't Stop Matte Primer. I used it before my foundation, and a part of me thinks this product is the real star. When you apply it, the directions say to spread it on with your fingers and tap to set in place. So, that's what I did. Before I knew it, the texture changed from silky to slightly tacky — not in a sticky way, but in a strong-grip kind of way. I feel like it's the glue holding my entire makeup look together.
The good news is they're affordable enough to treat yourself to both. The foundation will only run you $15 (which is a major steal, considering you won't have to buy two just to mix your perfect shade). Look out for the new launches on the NYX Cosmetics website, in NYX stores, and your local Ulta on August 19.