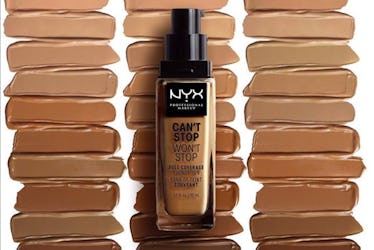 Looks Like NYX's New Can't Stop Won't Stop Foundation Is Making 45 The New Magic Number
Rihanna might have ignited the long overdue trend of makeup brands finally creating inclusive complexion shade ranges for their customers, but it seems YouTubers and social media beauty gurus are the ones keeping it going. Too Faced recently expanded their Born This Way Foundation shade range, with deeper shades curated by YouTube star Jackie Aina, and now, affordable brand NYX Cosmetics is following suit. The brand is soon launching the new NYX Can't Stop Won't Stop Foundation, and YouTuber Alissa Ashley is one of the people to thank for the fantastic shade range.
After Rihanna's Fenty Pro Filt'r Foundation ($34, fentybeauty.com) was met with major praise for its 40 shades, featuring the palest of pales to the deepest of darks, it finally clicked for other major beauty brands that a large chunk of consumers were being underserved. A limited 12-shade collection of foundations — with more than half on the light to light-medium side — would no longer be tolerated as standard.
Just recently, Too Faced turned to YouTuber Jackie Aina, who boasts a cool 2.4 million subscribers on her YouTube channel, as well as about 1 million followers on Instagram, to help them fix a major faux pas. While their Born This Way Foundation ($39, toofaced.com) was beloved by many, tons of beauty lovers never even got to put it to the test. Why? A limited shade range. With Aina's help, the brand recently released nine new shades on the darker end of the range, including her perfect match and shades that matched other YouTubers she knew struggled to find a great fit.
Now, over in the mass market corner of the ring, NYX has been gearing up with a similarly inspired launch, only it's not an expansion — it's a totally new product. The brand took to Instagram to announce the launch of its new Can't Stop Won't Stop Foundation ($15, coming soon to nyxcosmetics.com), with a shade range curated by Alissa Ashley.
The main number that should stand out to you in this announcement? 45. Yes, this 45-color shade range shatters the 40-foundation ceiling several other brands had been adhering too following Fenty's precendent. Even more, this foundation formula boasts 24-hour wear. Yes please!
If you're unfamiliar with Alissa Ashley, prepare to become obsessed. The beauty guru has 1.3 million subscribers on her YouTube channel, about 789,000 thousand followers on her Instagram, and a habit of speaking her mind when a brand isn't doing enough. Ashley praised the Jackie Aina x Too Faced shade expansion collab, and she was far from shy when it came to discussing Tarte's Shape Tape Foundation ($39, tartecosmetics.com), detailing how disappointed she was when her favorite concealer's companion product didn't the most inclusive shade range. Thankfully, in response to the feedback, Tarte announced they would be expanding the product's shade range. And now, Ashley has teamed up with NYX to ensure that all brands make inclusivity their first priority.
"It's so amazing to see influencers using their influence to help brands formulate deeper shades to make it more inclusive," said Ashley of the Aina x Too Faced collab in her YouTube video review. "I just think that's amazing, and I'm so on board with that." So on board, in fact, that she jumped at the chance to help NYX with 45 shades for this new foundation. Thank you, NYX. Thank you, Alissa Ashley.
The foundation launches officially on August 16, and will be available at Ulta, nyxcosmetics.com, and NYX stores. Along with the 45 glorious shades, we also know that the formula is meant to be super long-wearing and full coverage, with a matte finish. After seeing these swatches, I can almost guarantee we'll all be able to pick it up in our respective shades, because wow.
In an interview with Allure, Ashley gushed about what made the Can't Stop Won't Stop foundation formula so unique. "With most full-coverage foundations, sometimes I feel like there's not a lot of wiggle room. They only give you the option of really full coverage, but with this, you can layer it for either a natural or glam look."
Since we aren't all beauty gurus with YouTube videos to film, it's nice to know that we'll be able to control how natural or extra we want to look using this product. I mean, I know I'll be choosing the fullest of coverage every day, but you do you.
Oh, you thought NYX was done? Not so fast. Along with the foundation, they'll be launching a Can't Stop Won't Stop Matte Primer as well! Pinch me, I'm dreaming. And in my dream, my skin is mattified and flawless.
It's safe to say NYX isn't playing around with this new launch, and hopefully, the hype will inspire other mass market brands to expand their shade ranges as well.
It's long overdue, but the beauty community can't stop, won't stop (see what I did there?) talking about the importance of inclusivity. And we're finally seeing results.