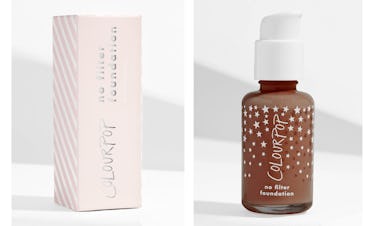 ColourPop Is Finally Dropping A Foundation... In 42 Shades... For $12 A Pop
ColourPop
Foundation is evolving. Following the launch of Fenty's unprecedented number of shade offerings last year, the beauty industry is finally acknowledging the importance of shade inclusivity. Case in point: the new ColourPop No Filter Foundation debuted a satisfyingly large number of shades. (Gold star for ColourPop!)
What's more, the ColourPop No Filter Foundation is the brand's first foray into foundation — a fact that honestly kind of surprises me every time I think about it. For a brand that has created pretty much everything else in the beauty sphere (including some stunning metallic eyeshadow), a product as simple and basic as foundation seems like a long time coming, no? That said, great things take time. According to reports from POPSUGAR, this foundation took over a year to formulate. ColourPop cofounder, Laura Nelson, also told the publication that foundation was one of the most highly requested products from ColourPop's broad customer base.
First, the UK-based brand teased us with its No Filter Concealers, which proved to be creamy, dreamy, and oh-so-conceal-y. What's more, the concealers have since expanded into a whopping 30 shades, which is well above the average number for most makeup brands. That said, ColourPop one upped themselves, numbers-wise, with its new foundations.
Specifically, the No Filter Foundation comes in an impressive 42 shades (that's two more even than Fenty!). And while this is certainly not a competition to see which brand has more shades just for the sake of numbers, it is solid proof that there is progress and movement in the foundation sphere!
To make shopping for the perfect shade even easier, ColourPop categorized all 42 foundation hues into six categories: fair, light, medium, dark, medium dark, and deep dark. Behold the beauty of shade-inclusivity, below:
Let's talk formula. These oil-free foundations provide medium to full coverage with a natural-looking matte finish, thanks to an infusion of blurring pigments. The result: True #NoFilter vibes. Additionally, the formula is made to absorb excess oil, meaning it's perfect for the impending sweaty summer weather. Plus, these babies are vegan and 100 percent cruelty-free. My one and only qualm with this formula, though, is that it doesn't contain SPF (but honestly, I'm of the belief that sunscreen should always comprise a separate step, regardless of whether its infused into your foundation... so I guess adding SPF wouldn't have made a difference in my case!)
On a completely separate note, the packaging for these foundations is super cute — just look at those adorable tiny stars!
So, how much will we have to shell out for these adorable jars of skin-perfecting goodness? In true ColourPop fashion, these foundations are jaw-droppingly affordable. At a mere $12 each, you can snag the perfect makeup shade without shelling out the big bucks for a forty-something dollar Fenty foundation. (Note: I'm not trying to throw shade at Fenty, which is undeniably fabulous and worth every cent IMO. But bills are a real thing that unfortunately take precedent over makeup sometimes!) Whew. My point is, the ColourPop No Filter collection provides access to a myriad of hues that have previously only been offered from brands two or three times the price.
ColourPop's expansive shade range is comfort that times are a changin' in the beauty biz. No longer are we relegated to settling with mismatched hues and buying multiple formulas to mix and match. It's 2018, and everyone should be able to find a foundation that blends with their skin tone. Incidentally, here's a video of the No Filter Foundation being made:
The shades are slated to launch on Thursday, June 14, online at on ColourPop's website. As a bonus, the brand will also launch three loose setting powders, six sheer matte powders, and two foundation brushes.
Bendable, beautiful foundation FTW!