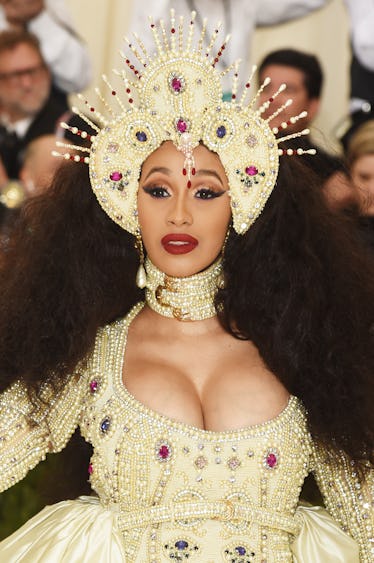 Cardi B's Makeup Artist Revealed How To Make Any Lip Gloss Matte — & Stay Put All Day
Jamie McCarthy/Getty Images Entertainment/Getty Images
There's nothing beauty junkies love more than learning new tips and tricks that can help make the countless products they already own more versatile. So Cardi B's makeup artist's hack for making lip glosses matte is a definite Godsend. In a video clip for Allure, Erika La' Pearl, who's been working with the rapper since she was on Love and Hip-Hop: New York, shared the red carpet dilemma that lead to her using this amazing lip gloss beauty hack.
"She was going to the Met Gala. That day I didn't have any matte lipstick — I had glossy lips." La' Pearl shared with Allure. "She wanted her lips to be extra matte. So my trick, I like to take some some setting power and blot it, and it'll matte it out — and it'll last the whole day." Brilliant.
But that's not the only hack La' Pearl has used on Cardi in the past to get that desired matte finish. At the 2017 BET Awards, the makeup artist pulled another trick out of her sleeve to keep the star looking fab all night. The best part is that you can easily find the product used at your local drugstore.
"It was my first time working with her in Miami," La' Pearl said. "It was a very hot day, so I used milk of magnesia. That product will literally keep your face matte."
When Cardi's not sitting in the makeup chair getting a fresh beat from her favorite makeup artist, she's trying something new with her hair. And in typical Cardi fashion, it's usually a look that's bound to be quite bold and playful.
Back in early June, the mom-to-be posted a photo to her Instagram page of her rainbow 'do, captioning the pic, "Big Momma," as she boasted her blossoming belly. The waist-length, lace-front wig was dyed blue, pink, green, and blond, and styled into a half up, half down look — complete with bangs and a top knot. The wig itself was done by Missy Hair Boutique, while 21-year-old Atlanta-based hair guru CliffVmir was the mastermind behind the style and color, alongside fellow stylist Tyra in the City.
Cardi completed the look with a white, above-the-knee, low-cut frock and rainbow pumps to match her show-stopping hair.
But while the 25-year-old may have fun with her elaborate looks when she's off to a red carpet event or party, she's also one who enjoys keeping it simple from time to time. Believe it or not, on her wedding day, which many believe is the most important day of your life, Cardi actually went makeup-free for her private ceremony, where she wed Migos rapper Offset back in September 2017.
"We found someone to marry us, and she did. Just the two of us and my cousin," she wrote in a note that was later posted to Twitter. "I said I do, with no dress no make up and no ring!" She ended the message by clearly stating that "lil nosey [sic] f*cks" can now stop saying that the musician "had a baby out of wedlock."
Still, Cardi regularly posts photos and videos of herself sans makeup with zero shame. It's refreshing to see that, although her fame has risen significantly throughout the past few years, Cardi still remains humble and confident in her natural state.
As for Cardi's key makeup artist, La' Pearl was responsible for Cardi's latest glam, as the star made a stunning entrance with a gorgeous pink smokey eye and nude lips for her baby shower. For this look, the beauty wizard shared that she only used products from the Marc Jacobs Beauty line, and as always, Cardi looked absolutely dazzling.