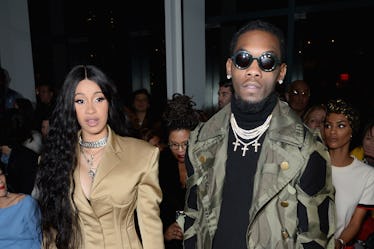 Cardi B Went Totally Makeup-Free At Her Secret Wedding & I Already Know She Looked So Fab
Andrew Toth/Getty Images Entertainment/Getty Images
Cardi B is a pretty open person, but when it comes to her love life, online judgment and backlash have caused her to start keeping some things to herself. She revealed that she named her album Invasion of Privacy as a nod to how she was feeling about it all. But while she did start keeping secrets, she didn't stop living her best life. She recently took to Twitter to confirm that she has already married her now-husband Offset. Now that the cat's out of the bag, if you're curious about Cardi B's wedding makeup, you might be surprised at the truth she revealed about that little detail of her big day.
Always a risk-taker when it comes to beauty looks, Cardi B has rocked everything from a completely bare face to the wildest of full-glam beats. She's comfortable enough in her skin to not feel the need to cover it up, yet creative enough to understand how fun makeup can be as a form of self-expression. Cardi B is the queen of confidence, and her look always reflects her mood, so perhaps I shouldn't be surprised that, when she wants to be more private, she opts to forgo the foundation and keep things au naturale.
But before we get into the details, let's backtrack a little bit. On Monday, June 25, TMZ reported that, despite Offset proposing to Cardi B in October 2017, the two had already filed a marriage license in Fulton County, GA, in September 2017. Later on June 25, Cardi posted a message on Twitter that detailed her relationship status, as well as her desire for private moments in her relationship:
Cardi was clearly unhappy about negative judgments thrown at her and Offset, especially in regard to everything from her pregnancy to infidelity rumors to their very public engagement. "Welp f*ck it," she wrote about coming clean with the truth: She and Offset were already wed, and they kept the memories all to themselves, not to be judged by others. In fact, Cardi revealed their ceremony was so intimate that no guests were invited — just the couple and Cardi's cousin as witness were there. The public proposal and ring happened later, so that Cardi could have what she refers to as "that special moment that every girl dreams of." At the time, I remember being surprised at the news, but now, all I can think of is how sweet it must've felt for them.
In addition to being ring-less at her wedding, Cardi forwent two other major traditions: a gown and bridal makeup. While this would be difficult for me (and I was, in fact, expecting some wild glam for Cardi's big day), her willingness to rock a bare face is a sign of how comfortable she is with herself. Even women who hate makeup feel pressured to give into the bridal stereotype on their wedding days. However, Cardi's choice reiterates that marriage isn't about the look and the ceremony — it's about how you feel, the people there to celebrate you, and the love between you and your partner. Bridal makeup is a fun bonus, but not a necessity.
If you're wondering why I assumed Cardi would wear makeup to her wedding, it's because she really does seem to enjoy going all out with her look.
Here she is on a casual Monday, looking fierce:
OK, OK, it wasn't just any Monday. It was the MET Gala. But still! That liner! Those lips! It was such a big mood.
Still, though, Cardi isn't a stranger to showcasing her makeup-free looks, especially on social media.
In comparison, behold a makeup-less Cardi in a video posted to Instagram. Still more than beautiful, but far more fresh-faced:
While I am a major fan of Cardi occasionally over-sharing on social media (what can I say, she's hilarious), the message of respecting privacy and also allowing yourself some secrets is solid advice for anyone. Despite the serious mood of her note, Cardi returned to Twitter the next day with some more upbeat advice: "LIVE YOUR BEST LIFE AND DRINK CRANBERRY JUICE !!!"
Book me a salsa class and pass me a glass of cran juice, because I will literally do whatever this confident queen tells me to. It's Cardi's world, and we're all just living (and dancing, and drinking cranberry juice, apparently) in it.