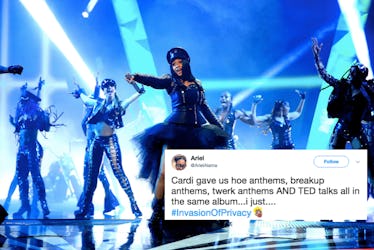 Cardi B Dropped Her New Album 'Invasion Of Privacy' & Twitter Immediately Lost It
Christopher Polk/Getty Images Entertainment/Getty Images , Twitter
World, are you ready for Cardi B's debut album, Invasion Of Privacy? Because ready or not, here it comes, and let me tell you fam, it is FIRE. But come on, you couldn't tell me that you expected anything less from Cardi. She's been on a roll lately, and her newest album only adds to the list of things she's currently crushing. If you haven't listened to the album on repeat at least ten times already, you're doing it wrong. These tweets about Cardi B's Invasion Of Privacy album will make you want to drop everything and start streaming ASAP.
The 25-year-old rapper took to Instagram on Monday, March 26, to announce that her debut album was going to drop on Friday, April 6. Fans went wild, because pretty much everything Cardi B has done so far has turned to musical gold. Between "Bodak Yellow" and "Bartier Cardi" (two hit songs that are on Invasion Of Privacy, BTW) which both rose to fame almost instantaneously, Cardi B has proved time and time again that she's the real deal. And now that fans have finally gotten to listen to Invasion Of Privacy, many are taking to Twitter to give our girl Cardi the credit she deserves.
But you get the idea: Cardi B's Invasion Of Privacy album is legendary. Cardi B herself is legendary, and pretty much everyone knows it.
And not to be dramatic or anything, but the only thing that's even more amazing than the album itself is the album art. When she took to Instagram to announce her album details, she also gave fans a first look at her album cover. It is actual goals, and I sort want to frame it in my home. Her Instagram caption read:
My album cover !!! LADIES AND GENTS ! My album INVASION OF PRIVACY will be out next week April 6!!!!!!!❤️💪🏾
SLAY, CARDI. SLAY.
With her new album out, many people were wondering if Cardi B will be going on tour. While she doesn't have a solo tour announced (yet!), she will be joining Bruno Mars on his 24K Magic tour for the last North American portion from Sept. 7, 2018 to Oct. 27, 2018, so if you want a little more Cardi in your life (and really, who doesn't), I suggest hopping on those tickets stat.
Talents aside, Cardi B is also known for being incredibly honest, especially when it comes to her relationship with her fiancé, rapper Offset. Back in January, rumors were circling that Offset cheated on Cardi B. Elite Daily reached out to both Offset and Cardi B's teams for confirmation on the cheating reports but did not hear back by the time of publication. Cardi has made it perfectly clear that what goes on between her and her man should stay that way (and perhaps that's where her album got its name from). In an interview with Cosmopolitan, she said,
It's like everybody is coming down my neck, like, 'Why are you not leaving him? You have low self-esteem.' I don't have low self-esteem. B*tch, I know I look good. I know I'm rich, I know I'm talented. I know I could get any man I want—any basketball player, football player. But I want to work out my shit with my man, and I don't got to explain why. I'm not your property. This is my life.
She continued, saying,
I'm going to take my time, and I'm going to decide on my decision... so let me deal how I want to deal with it. It's not right, what he f*cking did — but people don't know what I did, 'cause I ain't no angel.
So, please keep thoughts about Cardi's relationship to yourself — but when it comes to her music, please shout your love for her debut album from the damn rooftops, because that's what it deserves.
I got you, girl.