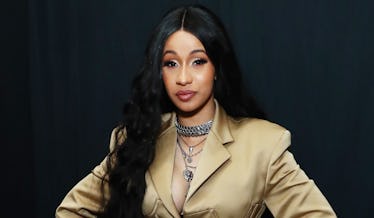 Cardi B Just Announced The Name Of Her Debut Album & It's Coming SO Soon
Cardi B is having one hell of a year, and it's about to get even better. The 25-year-old rapper announced via Instagram on Monday, March 26, that her debut album is dropping in less than two weeks! Brace yourselves, guys, Cardi B's Invasion Of Privacy album is coming on Friday, April 6. Before this, Cardi B had released two mixtapes, Gangsta B*tch Vol. 1 and Gangsta B*tch Vol. 2, which both were released in 2016. Her debut album is being released after the success of her Grammy-nominated single "Bodak Yellow" and her chart-topping "Bartier Cardi."
Cardi B revealed the album name, cover, and release date on her Instagram on March 26. The photo shows her wearing a black-and-white checkered jacket and sitting on a yellow chair, slaying in a wig that's just as yellow. Her caption reads, "My album cover !!! LADIES AND GENTS ! My album INVASION OF PRIVACY will be out next week April 6!!!!!!!" Next week?! Cardi, allow me time to prepare!! Also, this album cover is giving me all of the Lady Gaga and Beyoncé "Telephone" music video vibes. (Don't tell me I'm wrong, look at Cardi's hair!) The rapper didn't give any hints as to why she named the album Invasion Of Privacy, but I feel like it's pretty obvious where the inspiration for this name could have come from. Before we dive into that, let's talk about how excited fans are for Cardi B's debut album.
First off, just look at this album cover!
Fans are pumped for Invasion Of Privacy to drop on April 6. (And they're also getting "Telephone" vibes because, I mean, just look at the picture.)
The name of the album could be inspired by Cardi B's sudden shot into fame this past year. She was relatively unknown before "Bodak Yellow" became the hit that it is, and the world has fallen in love with her ever since. But with fame comes a lot of scrutiny of the parts of your life you feel should be private.
Take Cardi B's relationship with rapper Offset, for example. Their relationship is under constant fire from disapproving fans ever since reports surfaced in January 2018 about Offset reportedly cheating on Cardi B. Elite Daily reached out to Cardi B and Offset's teams for confirmation on the reports but did not hear back by the time of publication. The couple is still engaged despite the reports.
According to TMZ, Cardi is also reportedly pregnant with her first child with Offset but she hasn't confirmed the news herself. Elite Daily reached out to Cardi's team about the pregnancy rumors but did not hear back by the time of publication. Cardi B has made it clear that her relationship status is strictly her and Offset's business. (She's right.) She addressed the criticism of her relationship in an interview with Cosmopolitan. She said,
It's like everybody is coming down my neck, like, 'Why are you not leaving him? You have low self-esteem.' I don't have low self-esteem. B*tch, I know I look good. I know I'm rich, I know I'm talented. I know I could get any man I want—any basketball player, football player. But I want to work out my shit with my man, and I don't got to explain why. I'm not your property. This is my life.
She continued,
I'm going to take my time, and I'm going to decide on my decision... so let me deal how I want to deal with it. It's not right, what he f*cking did — but people don't know what I did, 'cause I ain't no angel.
Cardi's interviews over the last couple of months have made it clear that she's struggling with fame. She appeared on the cover of CR Fashion Book Issue 12 back in January, and she was interviewed by Zendaya for the issue. They talked about the ups and downs of fame, and that's when Cardi revealed she was "a little bit happier" a couple of years ago. "Well, one positive thing [about fame] is that, my family, whatever they want, they get," she said. "Everything that I want to buy, I can get. I don't have to worry so much about my future." She continued,
One negative thing is that, even though I'm happy, I feel like I was a little bit happier two or three years ago when I had less money. I had less people who had opinions about my life. I felt like my life was mine. Now I feel like I don't even own my life. I feel like the world owns me.
Cardi also talked in the interview about what dreams she has for the rest of her life with fiancé, Offset. She said, "My real goal is to have beautiful kids, a beautiful mansion, and do business that makes me money until the day I die. Then be able pass it on to my children." Based on all of this, I think it's pretty clear why Cardi B's debut album is called Invasion Of Privacy.