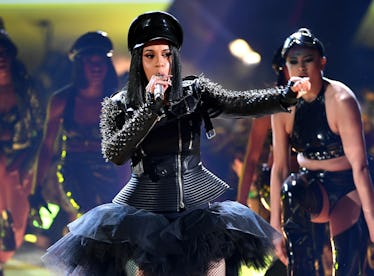 Fans Have One Major Question About Cardi B's Debut Album & We Need To Know ASAP
Kevin Winter/Getty Images Entertainment/Getty Images
Cardi B's debut album Invasion of Privacy will officially be released on Friday, April 6, and fans are dying for it to come out. The rapper announced the album's release date on March 26 in an Instagram post that also revealed the album's cover art. After the Grammys, Bruno Mars announced Cardi B will be joining him on tour for the last North American leg of his 24K Magic tour, but will Cardi B go on tour for Invasion of Privacy? Mars and Cardi B will hit the road together from Sept. 7, 2018 to Oct. 27, 2018, so that's not too much of a time commitment on Cardi B's end. It leaves her a lot of time from April 6 until Sept. 7 to plan her own solo tour. But as of right now, no Cardi B solo tour has been announced.
Cardi B announced her debut album in an Instagram post on March 26. She posted the album's cover art (which is amazeballs, by the way) and captioned the post, "My album cover !!! LADIES AND GENTS ! My album INVASION OF PRIVACY will be out next week April 6!!!!!!!" She has already dropped a few singles from the album, "Bartier Cardi," "Be Careful," and "Drip," which was just released Wednesday, April 4, and features Migos.
"Drip" is making fans so pumped for the album to come out on Friday, April 6.
The song features Migos, which is the group her fiancé, rapper Offset, is in.
Offset proposed to Cardi B during a performance in October of 2017, and the ring is mind-blowing. According to TMZ, Cardi B is reportedly pregnant with her first child with Offset, but she has not confirmed the rumors. (Elite Daily reached out to Cardi's team about the pregnancy rumors but did not hear back by the time of publication.) Despite their songs together and the apparent bliss between the couple, rumors came in January 2018 that Offset reportedly cheated on Cardi B, and though Elite Daily reached out to Cardi B and Offset's teams for confirmation on the reports, reps for the rappers did not respond at the time of publication.
Many fans criticized Cardi for staying with Offset despite the rumors that Offset reportedly cheated. Cardi B addressed the cheating reports and criticisms in an interview with Cosmopolitan published March 19, 2018. She said,
It's like everybody is coming down my neck, like, 'Why are you not leaving him? You have low self-esteem.' I don't have low self-esteem. B*tch, I know I look good. I know I'm rich, I know I'm talented. I know I could get any man I want—any basketball player, football player. But I want to work out my sh*t with my man, and I don't got to explain why. I'm not your property. This is my life.
The rapper continued,
I'm going to take my time, and I'm going to decide on my decision ... so let me deal how I want to deal with it. It's not right, what he f*cking did — but people don't know what I did, 'cause I ain't no angel.
Cardi was also interviewed by Zendaya for the CR Fashion Book Issue 12. In the March 14 interview, Cardi talked about how fame has negatively affected her happiness. She said,
One negative thing is that, even though I'm happy, I feel like I was a little bit happier two or three years ago when I had less money. I had less people who had opinions about my life. I felt like my life was mine. Now I feel like I don't even own my life. I feel like the world owns me.
That feeling of being owned by the world could have contributed to her debut album's title. Invasion of Privacy is definitely a fitting title for someone who's feeling like their life is no longer theirs, but fans will have to wait and see if Cardi B is planning on sharing her life even more by taking Invasion of Privacy on tour. My bet is she will, considering she won't have any issue getting butts in seats.