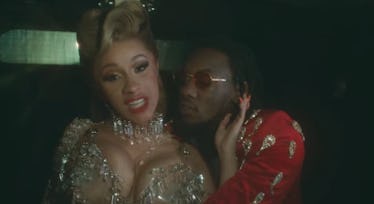 Cardi B Makes Out With Offset In Her New Music Video & It's So Steamy
I don't know Cardi B personally, but I do feel like I know her intimately. She's soared to the top of the music charts ever since her hit "Bodak Yellow" took over the world, and now she's back at it again with "Bartier Cardi." In true Cardi B style, she's peppered this new track with references to her relationship with Offset. As you, I, and everyone knows, she and her fiancé have had an on-again, off-again relationship. However, Cardi B and Offset's scenes in her "Bartier Cardi" music video confirm the two are still going strong. They're actually so steamy, I had to leave my computer and take a lap outside.
The lyrics are a little too graphic for my delicate, little, baby fingers to type, but here's a brief summary: Diamonds, diamonds, diamonds. Party, party, party. Quick drug reference. Sex, sex, sex. Hot sauce. Offset, Offset, Offset.
The music video is a real romp through Glam-city, and Offset makes a super sultry appearance in the back of a car where he and Cardi B — for lack of better words — go to town.
Enjoy the entire smokin' hot video, or fast forward to the 2:25 time stamp to see Offset's cameo. (And here's a quick little tip: It's NSFW, so if you're watching this at work, wear headphones. Put your back against a wall.)
OK. How are you guys doing? And also, why doesn't my boyfriend rap to me like that, HUH?
The truth is, I really like these two together, and think it's awesome they made this video in the middle of their breakup rumors. To bring you up to speed, Offset proposed to Cardi B at a concert in Philadelphia in October of 2017. (Her diamond ring is outrageous.) Watching the video of their engagement is weirdly one of my favorite things on the internet right now.
It was, ya know, a big deal.
However, by mid-January, there was already trouble in paradise. Cardi B reportedly posted a tweet suggesting Offset might have cheated on her, but she has since taken the tweet down. According to reports in January, sex tapes began circulating the internet featuring Offset and other women. Elite Daily reached out to both Cardi B and Offset's teams for comment on the rumors, but did not hear back by the time of publication. Offset told Rolling Stone in a Jan. 23 interview that he and Cardi B hit "pause" on their wedding planning.
Despite the intense rumor mill, Cardi B and Offset obviously made the decision to make things work.
In an interview with Cosmopolitan on March 19, Cardi B talked about the haters commenting on her relationship and her decision to stay with her man. She said,
It's like everybody is coming down my neck, like, 'Why are you not leaving him? You have low self-esteem.' I don't have low self-esteem. B*tch, I know I look good. I know I'm rich, I know I'm talented. I know I could get any man I want — any basketball player, football player. But I want to work out my sh*t with my man, and I don't got to explain why. I'm not your property. This is my life.
Cardi B also emphasized what happens between her and Offset should stay between her and Offset:
I'm going to take my time, and I'm going to decide on my decision... so let me deal how I want to deal with it. It's not right, what he f*cking did — but people don't know what I did, 'cause I ain't no angel.
As for including her fiancé in so many of her songs, she had a message about that, too. In December, she wrote on her Instagram story, "If I wanna put my man name on all my songs [so f---ing] what!! ... Sh*t when I'm about to die last word out of my mouth is OFFSET."
Got it. Whatever you say, Cardi. Glad to see you and Offset worked things out.
Check out the entire Gen Why series and other videos on Facebook and the Bustle app across Apple TV, Roku, and Amazon Fire TV.