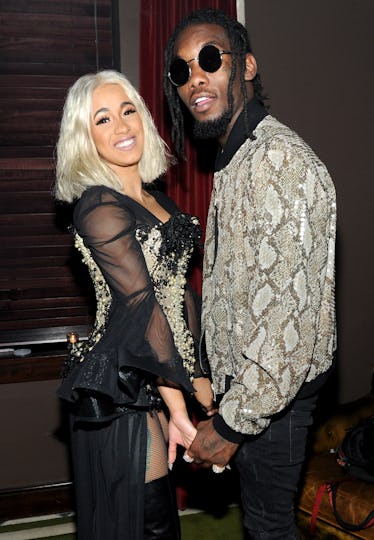 Here's How Cardi B & Offset Actually Met, In Case You've Been Wondering
Craig Barritt/Getty Images Entertainment/Getty Images
Hear ye! Hear ye! Cardi B and Offset are suddenly engaged, leaving lots of us with questions. When is the wedding? How did Cardi B and Offset meet? Who even are they?! I'M KIDDING! I've heard of them. Still, their sudden dive into marital bliss has me doing my research on these two, and they seem like a match made in rapper heaven.
Cardi B is the 25-year-old rapper creating your favorite hits, like the summer anthem "Bodak Yellow." She is also the first female rapper to have an unassisted No. 1 hit on the Billboard charts in 19 years, following in Lauryn Hill's footsteps, who held the same position back in 1998.
Cardi B and Offset — of the trap music trio Migos — have reportedly been low-key serious for sometime now. According to Billboard, the two randomly (re: magically!) ran into one another in February of 2016 while in New York, which was one month after their collaboration on her song "Lick" as part of Gangsta B*tch Music Vol. 2.
Now, I know what you're thinking, "How is it that two people can collaborate on a song together but never meet in person?" Well, Reader. I have no freaking idea and that's why I'm not a famous rapper. (That's the only reason why though, k?)
"Lick" came out on Jan. 20 and the music video is as romantic as we can imagine rap life gets. There's, like, a casino and alcohol and sequins involved... you get the idea.
Take a look.
By February of 2017, they were casually holding hands at the Super Bowl, as two famous musicians who go on dates to the Super Bowl might.
Overnight, they became #relationshipgoals online.
Shortly after, Cardi B teased they were the real deal by calling Offset "babe" in an Instagram post on Valentine's Day, but they weren't official-official until they stepped out to a Met Gala after-party together.
It was then that the world was like, "Oh, OK. This is happening."
The two have been known to go on crazy-expensive shopping sprees, so we should have seen her outrageous engagement ring coming.
On Oct. 27 in the most aggressive proposal video I've ever seen, Offset dropped down on one knee and asked for Cardi's hand in marriage. Complete with a pack of bros taking video and a screaming stadium full of fans in Philadelphia, Cardi lost her mind and began jumping around and shouting.
I mean, I would too. The ring is stupid, but in a good way. Stupid big. Stupid expensive. Stupid shiny. It is a whopping 8-carat diamond surrounded by smaller pink diamonds, and Cardi B can't get enough of it.
She posted photo after photo showing it off, and even included the following video to give us all a close-up look. (Not that we would need it, we can see that thing from outer-space.)
In one of her Instagram posts, she wrote,
Jesus Christ I'm so emotional, @offsetyrn I loveee you so much. Thank you for seeing the potential in me since you met me. For giving me advice molding me and loving me. Your such a amazing man to me your family, friends, kids and you are extremely talented. I can't wait to spend FOREVAAAA with you. Lets make a lot shmoney and love together
If making lots of "shmoney" and love together doesn't sound like the dream relationship, than I don't know what does.
We couldn't be happier for these two and we're dying to learn more about the (surely insane) wedding details.
Check out the entire Gen Why series and other videos on Facebook and the Bustle app across Apple TV, Roku, and Amazon Fire TV.