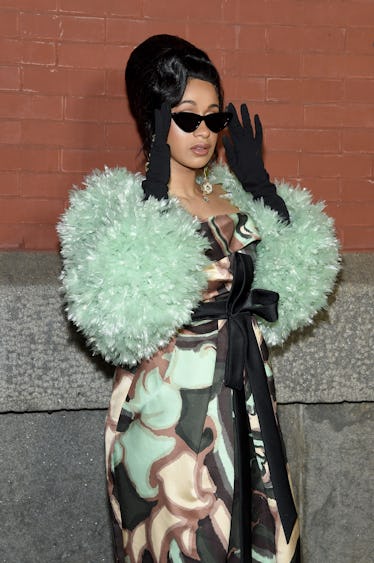 Cardi B's 'Invasion Of Privacy' Tracklist Just Dropped & It Looks Seriously Epic
Jamie McCarthy/Getty Images Entertainment/Getty Images
Cardi B is absolutely crushing life lately, and things are seemingly getting better by the day for the rap star. Ever since the world heard "Bodak Yellow," it was clear that Cardi B was on an entirely new musical level. Then, Cardi took to Instagram on Monday, March 26 to tell her fans that her debut album, Invasion Of Privacy, is set to be released on Friday, April 6, which means we'll get to hear even more music from the rapper (YAS, QUEEN!). Although we have a few days until her album makes its debut, Cardi B's Invasion Of Privacy tracklist just dropped, and you guys, it looks BEYOND epic.
On Wednesday, April 4, Cardi B took to Instagram to unveil the songs on the album. While there are some that we all know and love, like "Bartier Cardi" and "Be Careful," there are some new songs that I seriously can't wait to listen to. Here's the complete tracklist:
1. "Get Up 10"
2. "Drip" featuring Migos
3. "Bickenhead"
4. "Bodak Yellow"
5. "Be Careful"
6. "Best Life"
7. "I Like It"
8. "Ring"
9. "Money Bag"
10. "Bartier Cardi" featuring 21 Savage
11. "She Bad"
12. "Thru Your Phone"
13. "I Do"
Killin' it, girl!
But we got more than just the tracklist from Cardi's Insta — she blessed us with her amazing album art as well. She wrote:
TRACKLIST ...more surprises when the album drop 😉any questions you have don't Ask me ! You will find out on FRIDAY😘
Do you see that album art, y'all? Look at the colors. Look at Cardi. IT'S ALL SO DAMN AMAZING.
I thought we were lucky enough to see the album's cover art Cardi posted to Instagram back in March, with the caption that read, "My album cover !!! LADIES AND GENTS ! My album INVASION OF PRIVACY will be out next week April 6!!!!!!!"
Of course, her cover and the album's tracklist art are cohesive AF and make me want to start taping album cover posters to my walls again, circa 2009:
And, much like her album's name suggests, Cardi B knows that one of the drawbacks of living a life of fame means that your personal life isn't always as private as you'd like it to be. In an interview with Cosmopolitan for their April issue, Cardi B talked about how she deals with haters who try to meddle in her relationship with her fiancé, Offset. She said,
It's like everybody is coming down my neck, like, 'Why are you not leaving him? You have low self-esteem.' I don't have low self-esteem. B*tch, I know I look good. I know I'm rich, I know I'm talented. I know I could get any man I want — any basketball player, football player. But I want to work out my sh*t with my man, and I don't got to explain why. I'm not your property. This is my life.
This came in the wake of reported rumors in January 2018 that claimed Offset had cheated on Cardi B. Elite Daily reached out to Offset and Cardi B's teams for confirmation on the reports but did not hear back by the time of publication. In her Cosmo interview, Cardi told fans that they don't know the entire story, so they shouldn't comment on it at all:
I'm going to take my time, and I'm going to decide on my decision... so let me deal how I want to deal with it. It's not right, what he f*cking did — but people don't know what I did, 'cause I ain't no angel.
You heard the lady, people. Stay out of her personal life, okurrr?
Let's all just instead focus on how absolutely amazing Invasion Of Privacy is going to be. You know that our girl will NOT let us down.
That girl was put on God's green earth to deliver.
Go get 'em, Cardi.