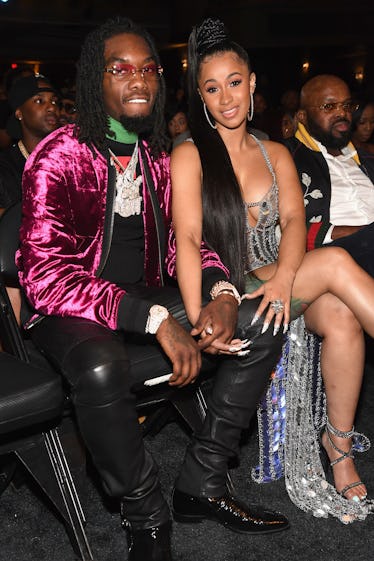 Fans Think This Cardi B Song Could Be About Offset & The Lyrics Are Telling
Paras Griffin/Getty Images Entertainment/Getty Images
Cardi B wants her relationship to be a monogamous one, and now it seems to me like she may be sending a pretty big message to her fiancé about it via her new song. Rumors have been circulating since January 2018 that the Migos artist cheated on the "Bodak Yellow" rapper, so now I have to wonder: Is "Be Careful" about Offset? Because Cardi B's song has some pretty telling lyrics in it that sound like a major warning to any guy who dares to stray.
Back in January, Cardi B reportedly posted a tweet hinting that Offset might have cheated on her. She has since taken the tweet down, though shortly after, reports began surfacing that sex tapes were making the rounds online that featured Offset with other women. Elite Daily reached out to Cardi B and Offset's teams for confirmation of these reports, but did not hear back by the time of publication.
Is Cardi now finally spilling the tea via a track from her new album, Invasion Of Privacy? Maybe, just maybe. Check out the opening couple of lines of "Be Careful": "I wanna get married like the Currys, Steph and Ayesha. But we more like Belly, Tommy and Keisha."
Pretty intense, right? Although TBH, who doesn't want to be married like the Currys? Still, it seems to me like Cardi is calling out Offset with that reference to the 1998 crime drama Belly, in which a character named Tommy cheats on his girlfriend, Keisha. And it only gets worse from there:
"Gave you TLC, you wanna creep and sh*t. Poured out my whole heart to a piece of sh*t," Cardi raps. "Man, I thought you would've learned your lesson. 'Bout liking pictures, not returnin' texts. I guess it's fine, man, I get the message. You still stutter after certain questions. You keep in contact with certain exes."
Cardi then goes on to rap that she "did what you did to me to you a few times," but "that's not my M.O. I'm not that type of b*tch. And karma for you is gon' be who you end up with."
Now let's take a look at the chorus:
The only man, baby, I adore. I gave you everything, what's mine is yours. I want you to live your life of course. But I hope you get what you dyin' for. Be careful with me, do you know what you doin'? Whose feelings that you're hurtin' and bruisin'? You gon' gain the whole world. But is it worth the girl that you're losin'? Be careful with me. Yeah, it's not a threat, it's a warnin'. Be careful with me. Yeah, my heart is like a package with a fragile label on it. Be careful with me.
It's really refreshing for me to see the heart behind Cardi B's tough-girl rapper façade, you know? I just want to go find her and give her big hug or something.
Meanwhile, some of Cardi's fans over on Twitter think the song is definitely about Offset.
There are also fans who are wondering why Cardi decided to stay with Offset despite all the cheating allegations. But she addressed that topic head-on in a recent interview with Cosmopolitan for the publication's April 2018 cover story.
"I don't have low self-esteem," she explained. "I know I look good. I know I'm rich, I know I'm talented. I know I could get any man I want — any basketball player, football player. But I want to work out my shit with my man, and I don't got to explain why. I'm not your property. This is my life... I'm going to take my time, and I'm going to decide on my decision."
Queen!
"Be Careful" is one of the songs on Cardi's new album, Invasion Of Privacy, which will be released on Friday, April 6. The 25-year-old former Love & Hip Hop star first shared the news on her Instagram a few weeks ago, then uploaded this little clip of herself covering the Cheetah Girls' hit song "Cinderella" to Twitter on April 4:
What other songs will we hear on the new album? I guess we'll have to wait until April 6 to find out! I don't know about you guys, but I am SO ready for this thing to drop!