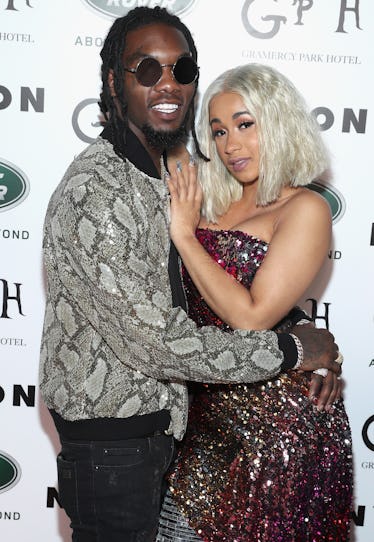 Cardi B Gets Real About The Reason Why She's Still With Offset Despite Cheating Rumors
Rob Kim/Getty Images Entertainment/Getty Images
It has been a wild freaking ride for rap star Cardi B and her fiancé, Offset. The two are in the middle of a whirlwind engagement that kicked off in October of 2017. Offset got down on one knee at a concert in Philadelphia and presented Cardi B with one of the most epic engagement rings I've ever laid eyes on. It was the proposal seen (and heard) around the world. Since then, they've suffered public ups and downs including cheating rumors, leaving fans wondering — Are Cardi B and Offset still together? Actually, yes.
Cardi B is nothing if not authentic. Her rise to fame was super fast after the release of her hit single "Bodak Yellow" topped music charts like whoa. She's known for speaking her mind (to put it mildly) and beloved for her "don't give a f**k" attitude. Planning her wedding has been one of Cardi B's favorite things to talk about, and she recently told E! on the Grammys red carpet that the big day would never be just a "one-day thing." She also said whenever she felt unsure about her relationship with Offset, she would look down at her massive engagement ring and think, "He bought me a half a million dollar ring — he really does [love me]."
Still, this assurance doesn't relieve her from meddling fans and press.
In mid-January, Cardi B reportedly posted a tweet suggesting Offset cheated on her, but it has since been taken down. According to Perez Hilton, multiple sex tapes featuring Offset with other women reportedly began circulating the internet in January. Elite Daily reached out to Cardi B and Offset's teams regarding these reports but did not hear back by the time of publication. Around this time, Offset told Rolling Stone wedding plans were put on hold. He said,
We ain't, we ain't planning it right now. We chilling. We don't got time for that right now.
Now, Cardi B is speaking out about her relationship and wants the public to hear her loud and clear.
Listen up, guys — it's none of our freaking business.
Cardi B recently sat down with Cosmopolitan to talk about what it's like living in the public eye. She said many people have criticized her for staying with Offset. She explained,
It's like everybody is coming down my neck, like, 'Why are you not leaving him? You have low self-esteem.' I don't have low self-esteem. B*tch, I know I look good. I know I'm rich, I know I'm talented. I know I could get any man I want—any basketball player, football player. But I want to work out my shit with my man, and I don't got to explain why. I'm not your property. This is my life.
I hear you loud and clear, B.
She also added fans don't know the full story. While she admits Offset's action "weren't right," Cardi B also suggested she might be in the wrong for some things, too. She said,
I'm going to take my time, and I'm going to decide on my decision... so let me deal how I want to deal with it. It's not right, what he f*cking did—but people don't know what I did, 'cause I ain't no angel.
Despite any drama, Cardi B seems to be incredibly loyal. Before all hell broke loose, she responded to haters giving her a hard time about including Offset's name in her music. She wrote the following (awesome) message on Twitter for her fans to chew on:
If I wanna put my man name on all my songs [so f---ing] what!! ... Shit when I'm about to die last word out of my mouth is OFFSET.
So, chill out everyone. Cardi B clearly knows what she's doing.
(I'm hoping everything continues to work out because I am dying to see this wedding!)
Check out the entire Gen Why series and other videos on Facebook and the Bustle app across Apple TV, Roku, and Amazon Fire TV.