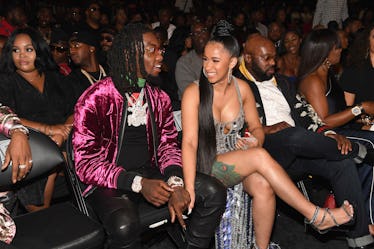 Cardi B Shared More Wedding Details At The Grammys & The Interview Is Hilarious
Paras Griffin/Getty Images Entertainment/Getty Images
The Grammys red carpet this year was as glamorous as any other year. The music industry's top-billed A-list performers definitely came out in full force and all eyes were on the nominees tonight. One such nominee who we were all on the lookout for was Cardi B, who is one of two female rappers nominated tonight. And if Cardi is present, we'd expect that her fiancé and fellow nominee Offset would be walking the red carpet alongside her, right? So are Cardi B and Offset together at the Grammys tonight?
Well, Cardi didn't end up walking the carpet with Offset and opted to go solo. She made a major splash on the red carpet in a stunning Ashi Studio custom haute-couture gown. The white dress made her look like a literal angel, and her hair and makeup were perfection. Her hysterical interview on the E! red carpet at tonight's ceremony just solidifies her as the best musician ever.
In the interview, she revealed some details about how wedding planning with Offset is going, stating that it's a little difficult to solidify plans for a wedding with her and Offset both dropping albums soon. She continued that her wedding certainly won't be a "one day thing." (Because, duh, it's Cardi B, why would it?) Rather, she hilariously said that her wedding festivities would be more of a "week-and-a-half thing," adding, "You know, we gotta do a honeymoon." DUH.
And if you're wondering if Cardi B has those "does he really love me?" moments like normal people do, she definitely does. But unlike us, Cardi can just look down at her left hand and know that Offset really loves her. She said in the interview, "He bought me a half a million dollar ring — he really does."
Cardi also kept it real and told E!'s Giuliana Rancic exactly how she's feeling to be at her first-ever Grammys — in a way that only Cardi B can. She said in the interview, "I'm feeling good. I'm feeling nervous, overwhelmed, everything. Butterflies in my stomach and vagina." Classic Cardi.
Cardi also called out the pregnancy rumors swirling around her in her red carpet interview. "Everybody always talking about [they] got a problem with me. And somebody always saying I'm pregnant every two weeks. If you wanna know just come to me. I'll tell you!" she told Rancic. "I'm trying to get away from gossip sites … I haven't replied back to no bad comments in like five days."
Cardi B is nominated for two Grammys, and the Bronx native could be making history tonight. Her chart-topping single "Bodak Yellow" was nominated for both Best Rap Performance and Best Rap Song. If she snags the Grammy in either category, Cardi would be the first female rapper to win in the history of the awards show. Though neither Cardi B (nor her real name, Belcalis Almanzar) are credited as a songwriter in the Best Rap Song category nomination, Cardi is in fact credited under yet another alias — "Washpoppin." According to Billboard, the alternate alias comes from a song off her 2016 mixtape Gangsta B*tch Music Vol. 1, titled "Wash Poppin."
So who is Cardi facing off against tonight in the Grammy awards race? Well, in one of the categories she's nominated for, her competition includes her own husband-to-be. Offset was also nominated for "Bad and Boujee," the hit song from his rap trio Migos. The song is up for the Best Rap Performance category, so the result of this particular race is sure to be very interesting — and I'll definitely be paying attention.
Cardi B and Offset got engaged in Oct. 2017, when the Migos member dropped down on one knee while the two were performing at a concert in Philadelphia. He gave her a too-good-to-be-true planet of an engagement ring, which features a massive 8-carat diamond, surrounded by smaller pink diamonds. She wrote in a sweet Instagram post, after Offset popped the question,
Jesus Christ I'm so emotional, @offsetyrn I loveee you so much. Thank you for seeing the potential in me since you met me. For giving me advice molding me and loving me. Your such a amazing man to me your family, friends, kids and you are extremely talented.
Seeing as how highly Cardi speaks of Offset, I doubt she'd mind losing to her soon-to-be partner for life.
Cardi also isn't the only female rapper that could be making Grammy history tonight. Hailing from North Carolina, rapper Rapsody has also been nominated in two categories: her song "Sassy" for Best Rap Song (she is credited as M. Evans, referencing her given name, Marlanna Evans) and her major-label debut album "Laila's Wisdom" for Best Rap Album.
So Rapsody and Cardi B are only really going head-to-head in the Best Rap Song category. But if Rapsody manages to pull off an upset win in the Best Rap Album category, she would be the first female rapper to win since Lauryn Hill's 1997 win with The Fugees, and the first solo female rapper to win in Grammy history.
Whatever the outcome tonight, both Cardi and Rapsody have made major strides for future female rappers in the music industry. And I'm sure Cardi and Offset will have an amazing night regardless of whether they win or lose, be it to each other or to one of their fellow performers.