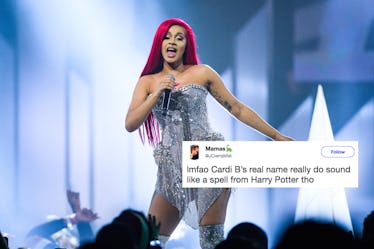 Fans Are Finally Learning Cardi B's Real Name & The Tweets Are So Hilarious
Cardi B's name is pretty unique. We already knew she got the nickname "Cardi B" because it was a childhood nickname. The rapper said during an interview with Jimmy Fallon that growing up, people started calling her Bacardi because her sister's name is Hennessy. Eventually, she shortened that nickname to Cardi B, and the rest is history. But people are just now learning what Cardi B's real name is and the responses are hilarious. Tweets about Cardi B's real name are some of the funniest things on the internet right now, and you'll be glad you read them. Before we can dive into the tweets about Cardi B's name, though, we have to talk about her actual name. Are you ready for this?
Cardi B's real name is... Belcalis Almanzar. Try saying that 10 times fast. The rapper, who grew up in the Bronx, has talked and tweeted about her real name in the past, but it's starting to make waves now as Cardi B's fanbase has grown massively in the last year. In a tweet from 2016, Cardi B talked about her real name. She said, "My name is Belcalis. Growing up people called me Bacardi cause my sister name is Hennessy ..FYI."
Fans can't get over Cardi B's real name, so naturally, they're making memes out of it.
Cardi B appeared on The Tonight Show Starring Jimmy Fallon on Dec. 20, and even Fallon, who has a huge personality himself, couldn't outshine the goddamn star that is Cardi B.
She talked about how she got the nickname Cardi B, and she and Fallon (who was hella awkward throughout the entire interview) talked about how she's had an incredibly successful year for her career. As mentioned in the video, Cardi B's "Bodak Yellow" is the number one solo hit from a female rapper since 1998. She's also the first female hip-hop artist ever to have all three of her first three singles in the top 10 at the same time. It's a pretty impressive resume on its own, but now Cardi B is up for two Grammys to boot. The list of 2018 Grammy nominations can be found here, but Cardi B is up for Best Rap Performance for "Bodak Yellow" and Best Rap Song for "Bodak Yellow."
Cardi went into more detail about her nickname when she was talking to Fallon, although she never talked about the fact that her given name is Belcalis Almanzar. She did talk about her engagement to Offset, though, and it was everything. Fallon asked if she had any idea the Migos rapper was going to propose to her during the middle of one of their performances in October. She said,
He always used to tell me, 'I'm gonna marry you, I'm gonna marry you,' and I'm just like, 'Hmmmm, it's the right thing to do.' I already knew he was gonna give me a really expensive gift because he wasn't there for my birthday, but I thought he was going to get me a watch or something. He just went out his way!
It's literally impossible to watch her interview with Fallon and not fall in love with her. Offset seems to agree, and their engagement video is the cutest sh*t I've ever seen.
Seriously, guys, literally everyone loves Cardi B. She and Bruno Mars recently released the "Finesse" remix together and the music video was dedicated to the show "In Living Color."
The video is everything we ever needed. It went viral really quickly after it was released, and Bruno Mars posted on Instagram afterward talking about how much he loves Cardi B.
His caption read,
I met cardi B at 3 am after my show in LA backstage where we recorded her verse for Finesse. She walked in the room and she was everything I'd hope she'd be. Never change cardi! Don't let this crazy music business change who you are. You possess something that can't be taught. You're a true star. Thank you for putting your energy and love all over this record and video. I hope you feel better soon because we got some celebrating to do. Everyone show ya love for the one and only CARDI B! 👏👏👏 #Finesse
Everyone just loves Belcalis Almanzar, OK?!