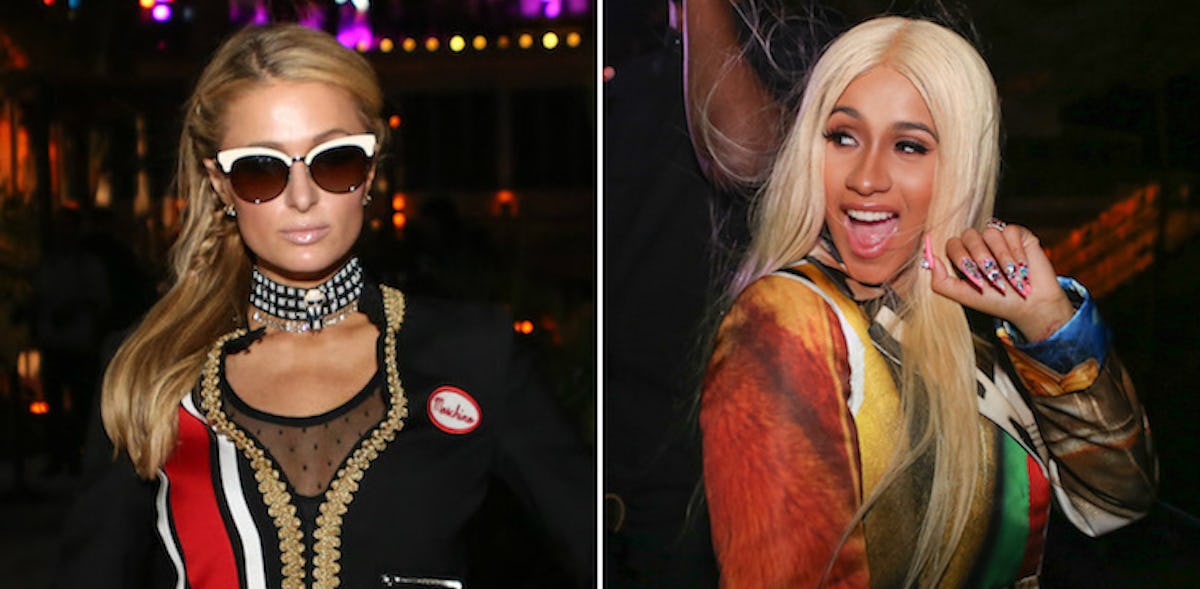 Paris Hilton & Cardi B Have Matching Engagement Rings & Fans Are Obsessed
Thaddaeus McAdams / Contributor / Getty
You know you're getting older when your celebrity icons start getting engaged. Church bells are ringing for my main girls Cardi B and Paris Hilton this year, and their diamonds are totally stunning. They're shiny. They're romantic. They're... really, really similar. Actually, Paris Hilton and Cardi B's engagement rings are practically twins. It's weird, but I think I like it.
It's no surprise both celebrities are rocking radically ginormous baubles, given their shared sense of "flare." Still, the similarities between their two rings are uncanny. Both diamonds are Pear Shape and surrounded by a bunch of smaller sparkles. The settings and bands are also sensational. If we didn't know these things were real, we'd guess they came from the bottom of a Cracker Jack box or from inside a gumball machine because their sizes are so unbelievable.
Hilton said "yes" over New Year's weekend on the slopes of Aspen, Colorado, when her boyfriend, Chris Zylka, got down on one knee. Her diamond is made of a whopping 20-carat stone which is surrounded by two carats worth of little diamonds. According to jewelry expert Michael Greene, Zylka designed it using Hilton's mother's ring as inspiration. Greene told People magazine,
He's a smart guy, and hangs out a lot with the family, and I think she realized how much she liked her mom's ring... When he came to pick it up and opened up the box he literally started shaking. He said, 'I can't stop shaking.'
Apparently, Hilton's ring is also worth around $2 million.
K...
Hilton spread the good news with a series of pictures on Instagram with the caption:
I said Yas! So happy & excited to be engaged to the love of my life. My best friend & soulmate. Perfect for me in every way. So dedicated, loyal, loving & kindhearted. I feel like the luckiest girl in the world! You are my dream come true! Thank you for showing me that fairytales do exist.
There's also a hilarious proposal video that ends with Hilton gazing at the diamond, breathlessly saying, "Holy f*ck."
In Cardi's circumstance, she said yes to her boyfriend, Offset, during a Philadelphia Power 99 Powerhouse concert back in October.
In the proposal video, we see Offset get down on one knee while Carbi B jumps around in front of their massive crowd. It's... a whole thing.
Even though her ring is only (HAHAHA, ONLY) eight carats, it looks almost identical to Hilton's. Cardi B's engagement ring is also surrounded by smaller pink stones, and flanked by two medium-sized (HAHAHA, MEDIUM-SIZED) diamonds.
She shared the good news by posting a series of pictures and videos on her Instagram. One caption said,
Jesus Christ I'm so emotional, @offsetyrn I loveee you so much. Thank you for seeing the potential in me since you met me. For giving me advice, molding me, and loving me. You're such an amazing man to me, your family, friends, kids, and you are extremely talented. I can't wait to spend FOREVAAAA with you. Lets make a lot shmoney and love together
Here is what the rings look like side by side:
I mean...
If these two rings aren't twins, they're at least related.
There's no news yet on when these women plan to get married, but it's safe to assume the wedding details will be spectacular. Maybe they'll plan their nuptials for the same day, at the same time, in the same place, and actually just marry each other.
Congratulations, one and all!
Check out the entire Gen Why series and other videos on Facebook and the Bustle app across Apple TV, Roku, and Amazon Fire TV.