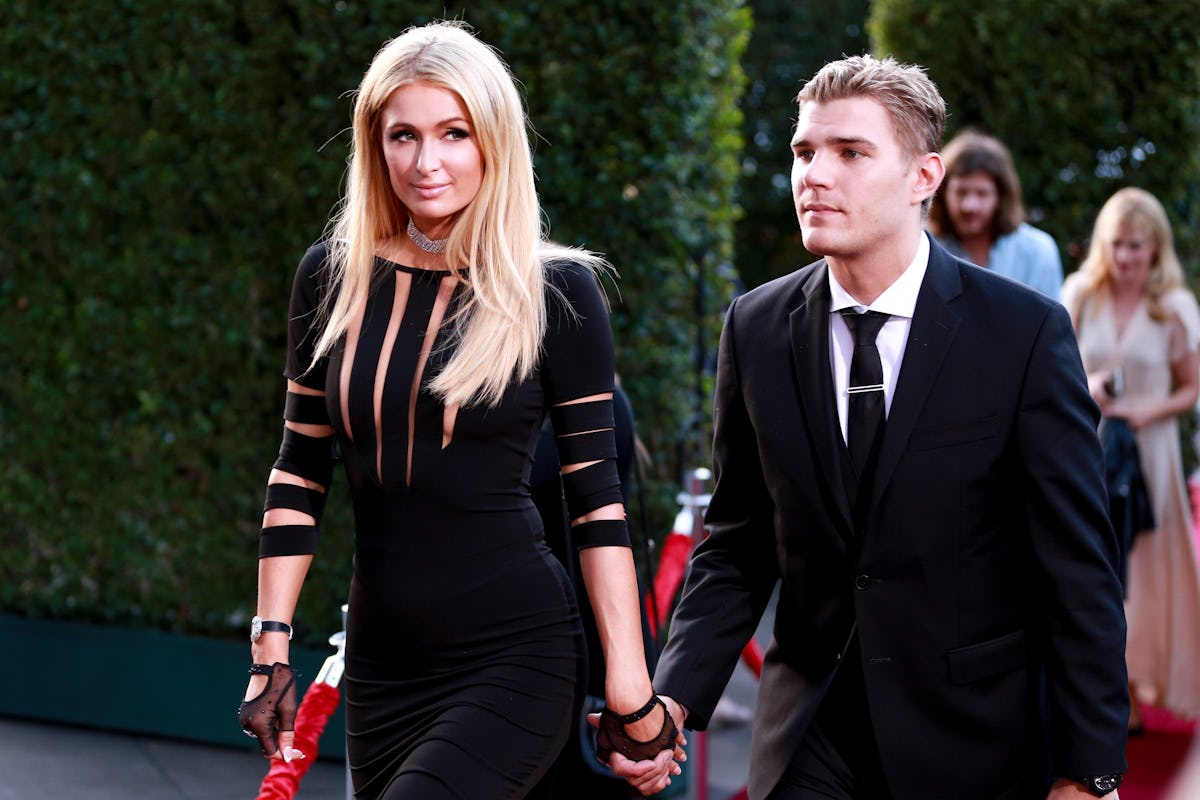 Fans Can't Get Over The Size Of Paris Hilton's $2 Million Engagement Ring
Rich Fury/Getty Images Entertainment/Getty Images
Amazing news, everyone. We're all going to live to see Paris Hilton's wedding. The social icon is engaged, and for some reason, I am SO excited about it. Call me nostalgic, but the days of The Simple Life were some of my best, and any human marrying Paris Hilton is a human I appreciate. Paris Hilton's engagement ring from her boyfriend, Chris Zylka, is stunning, and yes, it's also super expensive.
According to People magazine, the happy couple met eight years ago but officially began dating two years back. Zylka popped the question during a romantic weekend getaway in Aspen, Colorado. Paris was busy posting photos from the ski slopes on her Instagram, and eventually a series of proposal pics popped up on Jan. 2. She captioned the pictures,
I said Yas! So happy & excited to be engaged to the love of my life. My best friend & soulmate. Perfect for me in every way. So dedicated, loyal, loving & kindhearted. I feel like the luckiest girl in the world! You are my dream come true! Thank you for showing me that fairytales do exist.
I mean, can we PLEASE talk about that ring? WTF?
Like, what am I even looking at here?
Evidently, this is what $2 million worth of bling looks like. Diamond expert and celebrity jeweler Michael Greene told People,
Paris at one point in time told Chris she really loved her mother's pear-shaped diamond, and when Chris came to me that was his request. The pear-shaped really jumped out for him and ultimately for her. He did some fishing, but in the end it was all him. He's a smart guy, and hangs out a lot with the family, and I think she realized how much she liked her mom's ring.
Apparently, Zylka kept the whole process under wraps. Greene added,
Paris was not involved. Chris did it all. He wanted to do everything so perfectly. He wants the best thing for his princess. And he did all the right things. He told me he had to set up a time to meet up with Paris' father to ask for her hand in marriage. He did the whole thing. All the traditions.
Greene also said Zylka was a nervous wreck when he picked up the ring.
When he came to pick it up and opened up the box he literally started shaking. He said, 'I can't stop shaking.' It was like taking a good size man and bringing him down to a boy size giggle. He's a super nice guy.
Maybe he couldn't stop shaking because he was about to ask the most important question of his life, or maybe it had something to do with the 20-carat diamond in his hand. According to reports, the center stone is set on a "platinum split shank halo band" and "boasts another two carats of smaller diamonds." It also looks heavy AF.
Twitter obviously had some opinions.
Really, all that matters is how Paris feels. She told People,
The ring was so gorgeous and sparkling. I was shaking as I put it on. It is the most beautiful ring that I have ever seen!
Similar to her Instagram post, she added,
I am so excited to be engaged to the love of my life and my best friend. I have never felt so happy, safe and loved. He is perfect for me in every way and showed me that fairytales really do exist!
Paris, you're not in Kansas anymore.
Check out the entire Gen Why series and other videos on Facebook and the Bustle app across Apple TV, Roku, and Amazon Fire TV.