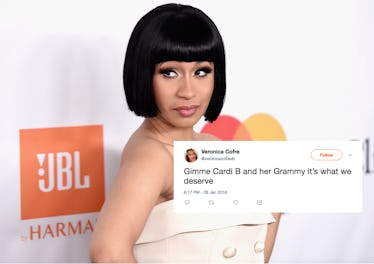 Cardi B Lost At The Grammys & The Tweets Are Seriously Brutal
Nicholas Hunt/Getty Images Entertainment/Getty Images
It appears that 2018 might be a bit more of a challenge for Cardi B. From her numerous chart-topping singles to her highly publicized relationship with Migos member Offset, 2017 was arguably the year of Cardi B. While the Bronx-native scored two nominations for the 2018 Grammy Awards, the female rapping phenomenon has sadly already lost both those nominations, and there are some brutal tweets about Cardi B's Grammys snub.
Cardi B was nominated for Best Rap Performance and Best Rap Song for her Billboard #1 "Bodak Yellow". However, the female rapper will have to hope for better luck next year since she has already lost to Kendrick Lamar's "Humble."
While she lost to a truly worthy adversary in Kendrick Lamar, it's a little surprising that Cardi B's Grammys journey has come to such an abrupt end. It was nearly impossible to turn on the radio without hearing the viral single "Bodak Yellow" bumping from the speakers.
Not that we're complaining, because that song is totally a jam.
So while many are sure to be upset by Cardi B's double loss, others are expressing their immense glee by throwing some pretty brutal shade towards her via Twitter.
Most of the tweets celebrating Cardi B's loss seems to stem from people's frustration at her two Grammy nominations despite the fact that she's pretty early to the rap game, careerwise. While her single "Bodak Yellow" truly defined history, being the first solo female rap single to hit #1 on Billboard since Lauryn Hill in 1998, it appears that achievement isn't enough to secure her a Grammy win.
On Jan. 25 at the Pre-Grammy Celebrations, Cardi B told Entertainment Tonight that she was hoping to secure at least one of the awards she was nominated for.
She said,
What I am most excited to see on the Grammys Sunday is just, like, me hopefully winning an award. Like, what else? That's all I think about, to be honest. I don't think about nobody else but me, or the Migos winning.
Call Cardi B what you want, but never call her fake.
On Jan. 28, just a few hours before the Grammys, Cardi B spoke to Billboard to discuss her two Grammy nominations and how honored and excited she is for the opportunities so early in her career.
She said,
It means a lot. It just makes you forget every bad thing or every little bullshit that you go through in the industry or every little comment that people try to put you down, and it's just like it doesn't matter because it's like, I'm in the Grammys. This week, whatever people say about me, it doesn't even matter, because it's like, I'm here at the Grammys.
Yes Cardi, you are.
On top of her immense music success, Cardi B has also secured the hearts of the public through her authentic personality in both interviews and through social media. Her Instagram has over 17.2 million followers, where fans can enjoy a slew of memes, videos, and photos of Cardi B just looking all around fabulous.
So while some may be happy at the results of Cardi B's nominations, other Twitter users are pretty devastated.
She may not have won those categories, but the rap queen will still be able to take the stage at this year's Grammys. She will be appear alongside fellow Grammy nominee Bruno Mars to perform the remix of "Finesse," which currently sits at number four on the Billboard chart.
We. Cannot. Wait.
Since the release of "Bodak Yellow," Cardi B can't seem to stay off the Billboard charts. As of the week of Jan. 27, she currently has six songs featured on Billboard's Top 100. Most of the tracks feature the Bronx-native, such as "Motorsport," "Finesse," "No Limit," as well as the slightly obscure "La Modelo."
It's Cardi B's world, and we're just living in it.