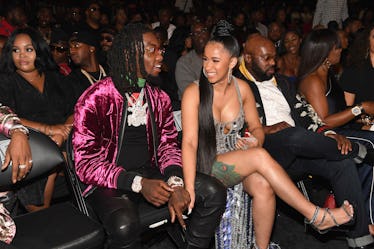 Cardi B's Sweet Quotes About Offset Prove That She's The Ultimate Ride-Or-Die Bae
Paras Griffin/Getty Images Entertainment/Getty Images
The saga that is Cardi B and Offset's relationship really is what hip-hop romance goals are made of. While it hasn't always been smooth sailing for the duo, there is something undeniably genuine about the evolution of their relationship thus far. Cardi B's quotes about Offset are unique in the world of celebrity romance, simply because they are so honest and transparent. Truth be told, their imperfections as a couple are refreshing AF.
According to Us Weekly, Cardi and Offset went on their first date back in February 2017 at Super Bowl LI at Houston's NRG Stadium, and have been inseparable ever since. After dating for almost eight months, Offset publicly popped the question in October 2017 onstage at Power 99's Powerhouse concert in Philadelphia. Since then, fans have been under the impression that the two are planning their wedding, but thanks to TMZ, some serious juice surfaced in the form of a marriage certificate, revealing that Cardi and Offset have been secretly married since September 20, 2017. This means the whole onstage proposal in October was essentially more theatrical than a high school production of Hamlet.
But wait, that's not all! To make things even more confusing, a December 2017 hack of Offset's iCloud leaked a video of the Migos rapper allegedly cozying up to a woman who clearly wasn't Cardi, just shortly before he proposed to her on stage. So does that mean Offset cheated before they got married? Did he cheat after? Neither have confirmed the timeline of events, but they have been vocal about sticking together, no matter what.
The empress of rap was under some serious fire for her decision to stick by her man in the face of his infidelity. Like the true ride-or-die bae that she is, Cardi told Cosmopolitan in their February issue that she isn't letting go of her beau without a fight.
"It's like everybody is coming down my neck like, 'Why are you not leaving him? You have low self-esteem.' I don't have low self-esteem … I know I look good. I know I'm rich, I know I'm talented. I know I could get any man I want — any basketball player, football player. But I want to work out my s*** with my man, and I don't got to explain why. I'm not your property."
While infidelity is the farthest thing from ideal, choosing to work things out with someone who has stepped out on you in such a public way takes a lot of strength and faith in a partner, and in your relationship. Plus, now that we know they were already married when the alleged cheating occurred, it makes more sense that she wasn't so quick to walk away.
After their public engagement in October of last year Cardi B praised Offset for his guidance and love in a series of (now-deleted) Instagram posts.
"Thank you for seeing the potential in me since you met me. For giving me advice molding me and loving me."
She also gave him a shoutout for being a wonderful family man and a talented artist.
"Your [sic] such a amazing man to me your family, friends, kids and you are extremely talented."
For those of you who haven't heard, the couple is also expecting their first child together — a baby girl, due next month.
Offset, who is already a father of three, apparently also has a very addictive "scent," according to this tweet from very pregnant Cardi.
She also noted via Twitter earlier this month that the baby already seems to be "attached" to her dad, regularly throwing in-utero temper tantrums when he's not around.
As for the recent discovery that the pair have long been married, the pregnant rapper responded to the media storm by reminding everyone that we're not entitled to knowing everything that goes on between her and her bae, thank you very much.
IMHO, a valuable lesson can be gleaned from celebrity relationships like this. Despite what so many of us have been led to believe, love and relationships aren't always effortless or easy. They take a potent mix of effort, dedication, and the capacity to forgive in order for things to work out in the long-run. It remains to be seen if these two will go the distance, but if the past is any indication, it seems like they are definitely on the right track.
Check out the "Best of Elite Daily" stream in the Bustle App for more stories just like this!