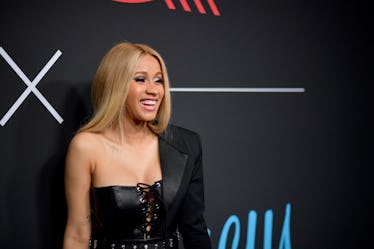 Cardi B's Latest Pregnancy Update Is Hilariously TMI & I Love Her Even More For It
Matt Winkelmeyer/Getty Images Entertainment/Getty Images
Cardi B has never been one to mince words, especially when it comes to talking about the inalienable truths of life as a pregnant woman. Over the last eight months, the 25-year-old rapper has dished out some doozies about the ups and downs of pregnancy. And now, she's shared some news with her adoring fans that most definitely falls into the TMI category. Can you guess what she said? Cardi B's pregnancy update was all about her most private parts and everyone is loving her for being real about pregnancy.
On Tuesday, June 5, Cardi took to her Twitter account to let the world know just how much she's struggling during this last month of pregnancy. Here's what she said:
SAD NEWS:I can't see my vagina anymore ☹️
I mean, you can't get more honest than that, can you? But that's what everyone loves Cardi for, anyway. She's a bit of an odd duck, who absolutely does not shy away from making all of her thoughts — controversial or not — known.
After posting the tweet, fans naturally shared it on their social media feeds. It got over 200 thousand likes, which prompted Cardi to hop back on Twitter once again to dispense some more humor and pregnancy truths.
Her next tweet was still pretty TMI:
SMH 200K likes on this tweet ?I guess ya love when I'm miserable 😤You know how hard it is to shave my vagina? 😤😤I literally have to put one leg up in the sink while i look in the mirror facefront 😡.I hate all of yaaa😂😂😂😂😂😂
Seriously, how can you not love Cardi B for her complete and total honesty here? She's telling it like it is! She is literally opening the eyes and minds of her followers — one joke hilarious tweet at a time. There's definitely a handful of people out there who don't know the struggle of being pregnant and feeling like an alien is invading your body.
And thankfully, everyone has Cardi B to let them know what that's like. She essentially did the same thing back in May 2018 when she attended the Met Gala wearing a dress that weighed a whopping 35 pounds.
In a red carpet interview with ET, she said her baby wanted to "fight" her:
Oh, she wants to fight me! My dress weighs about 35 pounds plus baby. It's OK though, I used to go up the project stairs.
That interview also may have accidentally revealed Cardi was having a baby girl. The rapper also referred to the baby's sex in a New York Times interview right around the time of the Met Gala:
Shorty weighs three and a half pounds. She do! She do weigh three and a half pounds. That's pretty good for seven months, right? Because I was born five pounds.
So, Cardi B has been super honest about her pregnancy. Whether wearing a ridiculously heavy dress or shaving her vagina, Cardi has something to say about it ALL. And you have to love her candor about all of it. It's kind of endearing and definitely admirable.
Cardi is reportedly due to give birth to her baby in July 2018. It's the rapper's first child and the fourth child for her fiancé Offset, who is part of the rap group Migos.
Cardi and Offset were engaged in October 2017 after dating for nearly a year. To mark the special occasion, Offset gave Cardi an engagement ring that was reportedly worth $550,000. She showed the ring off at the 2018 Grammys. She revealed her pregnancy during an April 2018 performance on Saturday Night Live. Can't wait to meet the baby!