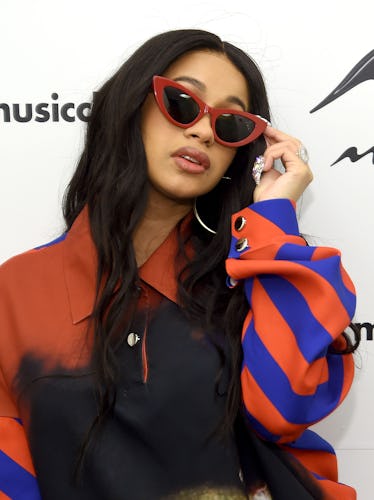 Cardi B's New Rainbow Hair Is Giving Off Such Strong Unicorn Vibes & Damn, "I Like It"
Jamie McCarthy/Getty Images Entertainment/Getty Images
Cardi B blessed everyone's newsfeeds on Wednesday, June 6, with an image of her new rainbow hair, and damn, do "I like it." Scratch that — I love it. The "Bodak Yellow" rapper posted the image on Instagram, with the caption "Big Momma," as she showed off her new waist-grazing, pastel, lace-front wig, styled by celeb hairstylist CliffVmir, in a half-up, half-down top knot with a fringe bang. The whimsical mane was dyed light blue, lime green, baby pink, and a faint yellow. Basically, it's proof that the unicorn hair trend is still very much alive.
Recently, the mama-to-be (who could, quite possibly, deliver next month) has been sporting her natural hair, but I'm loving the idea of rocking a wig as a fun and safe way to switch up her look, given how close she is to her due date. Luckily for pregnant women who love a good dye job, most studies have found no conclusive links between hair treatments and pregnancy complications. Still, though, according to a report by Columbia University, moms-to-be may want to minimize the skin's contact with hair dyes and bleach while pregnant, especially during the first trimester, as well as avoid inhalation of the toxic chemicals found in the dyes. By the looks of the super-long, rainbow-striped wig, I'm willing to bet that the color process probably took a long time, since the hair would've been bleached first and then colored with pastel dyes to arrive at the perfect shade.
The 25-year-old rapper paired her rainbow tresses with a sleeveless, white, bodycon dress that showcased her adorable baby bump, a silver watch, layers of silver chain necklaces and bracelets, and hot pink stiletto-shaped nails. But the best part? She finished off the look with rainbow heels that matched her wig perfectly. You can tell Cardi was definitely feeling her new magical mane, because after posting the full lewk, she went on to post a video of herself lip-syncing Bad Bunny and J Balvin's verses in her song, "I Like It". The caption read, "Love the boys verses in 'I Like It.'"
Cardi's makeup artist Erika La Pearl completed the look with sky-high lashes, a thick winged liner, gold eyeshadow, and a matte pinkish lip. The MUA revealed in the caption of an Instagram post that she used mostly Pat McGrath products on the rapper's majestic look, including Pat McGrath LuxeTrance Lipstick in "LaBeija" ($38, patmcgrath.com) for her pout.
While we're not exactly sure where Cardi went while rocking her new look, there are some videos floating around the internet of the singer with fiancé Offset in a club setting, proving that mamas in their third trimester can still have some fun, too. (You know, assuming it's still safe and everything.)
Rainbow hair or not, I, for one, am all the way here for Cardi B literally living her best life lately. From her Coachella performance, announcing her pregnancy on Saturday Night Live, dropping her Invasion of Privacy album (which features countless bangers), and all-around slaying life, let's unpack what the new locks could mean for the singer.
For starters, Cardi has to be feeling pretty damn happy and confident at the moment because one simply does not rock waist-length rainbow hair if they're not feelin' themselves. TBH, she should be feelin' herself after all of her recent success, along with the excitement of bringing her first child into the world. She could just be in the mood to experiment with new, fun colors (without the commitment) in the days leading up to delivering her baby, though. The last of Cardi's posts before she debuted the new look was a video where she was seen sporting straight, black hair.
Honestly, who knows? It's Pride Month, after all, and the rainbow hues could even be Cardi's way of showing support for the LGBTQ+ community in the midst of all the Pride festivities. Regardless, take note, as this lewk serves up major mane inspiration for any Pride parade or event you could be attending this month.
Is it possible Cardi will commit to coloring her natural hair rainbow shades after she delivers her baby? Well, that's TBD, but one thing's for sure: I can't wait to see what look Cardi B will be rocking next.