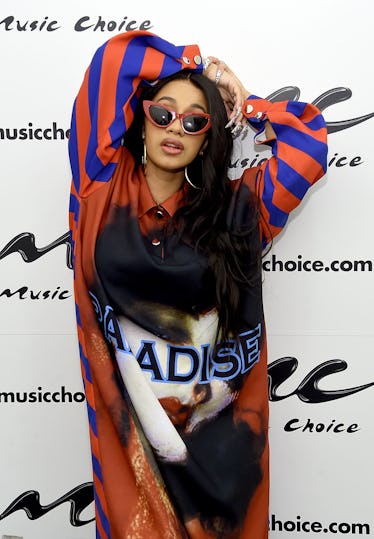 Cardi B's Due Date Is Coming Up & It Might Be Sooner Than You Think
Jamie McCarthy/Getty Images Entertainment/Getty Images
Cardi B is living her best life right now. The 25-year-old rapper dropped her debut album, Invasion of Privacy, slayed on stage at Coachella, and gave a memorable performance on Saturday Night Live, where she revealed that she was pregnant. Like I said, this girl is killing it. But now that the world knows she's expecting a little one, everyone wants to know one thing: When is Cardi B due? While Cardi B hasn't given her fans a concrete due date, we can sort of work our way back through the months and get an approximate due date.
First things first: Most women who are expecting wait until their first trimester is over to announce their pregnancy to friends and family. So, right off the bat, we know that she must be past three months pregnant — and Cardi B's growing baby bump totally proves that theory.
Back in February, Cardi B posted a video of her lip-syncing and dancing to one of her songs — and she looked pretty fly. But one person commented on the video, saying, "Is there maybe a Kylie Jenner secret that we need to know about lol Just asking," which, in case you're wondering, was basically asking Cardi if she was pregnant.
Cardi responded with, "No b*tch I'm just getting fat. Let me fat in peace."
You hear that, world? Watch the video, and tell me if you think you might see a lil' bump going on:
Personally, I think she looks slamming, but considering she announced her pregnancy on April 7, this means that she *had* to have been pregnant at the time this video was taken — if her three-month mark was April, that means that she and fiancé Offset must have gotten pregnant in (or before) January.
According to Bustle, "it's likely she and Offset found out around the time of their engagement," which was on Oct. 29, 2017. The reason that's assumed is mainly because women "often begin showing in their third or fourth month," and she's definitely showing now.
It might be a bit confusing, but stay with me here, people.
That calculation seems pretty accurate, because at the iHeartRadio Music Awards on Sunday, March 11, Cardi B showed up in a stunning Moschino dress... that hid her entire stomach. Not something people would usually care about or question, but because there were pregnancy rumors going around already at this point, this only fueled them.
SO, where does that leave us?
Well, if she did in fact get pregnant around the time of her engagement, that puts Cardi B at around six months right now, meaning that her due date could be as early as July.
That makes me all sorts of happy, because you know who else was born in July? ME, you guys! Me!
And, if she's estimated to be six months pregnant, that means that soon enough, things might get a little rough for her when it comes to performing.
Cardi B took to Instagram on Wednesday, April 25, to tell her fans that she will be taking a break from performing due to her pregnancy.
In the video, she said, "So I just wanted to make this a little clear and everything. Broccoli Fest will be my last performance for a little while," she began. She continued, saying, "Because, you know, shortie keep growing. I be looking like I be moving and everything, but in reality, a b*tch barely can breathe! I want to thank y'all for understanding. I'll be back for the Bruno Mars tour and everything."
She also told her fans that she loves them and to keep supporting her, and finished her message by saying, "And make sure y'all keep checking out my album, Invasion of Privacy, and — see, I can barely breathe now! I can barely breathe now. I ate like, six chicken wings and a b*tch can barely breathe right now!"
Is it weird that I, too, have trouble breathing after eating a ton of chicken wings? Cardi B and I are alike in so many ways.
Cardi, let me just say on behalf of the universe that we're all beyond excited for you and Offset to finally meet your little one. If possible, try to have him or her in July, that way the two of us can celebrate though, okurr?