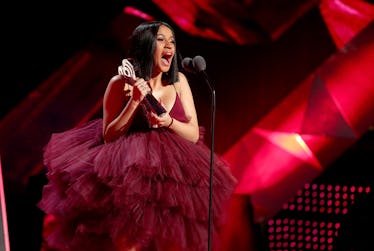 Cardi B Confirmed Her Pregnancy On 'SNL' & Twitter Is So Excited
Christopher Polk/Getty Images Entertainment/Getty Images
Cardi B was the highly anticipated musical guest on Saturday Night Live on Saturday, April 7, and she wowed fans with more than just her latest hits. During her second performance of the night, Cardi B confirmed her pregnancy on SNL, and fans on Twitter are thrilled for the singer. The love from fans came pouring in as soon as Cardi B revealed her baby bump while wearing a fitted white dress.
The singer first took the stage earlier in the night to perform a "Bodak Yellow"/"Bartier Cardi" medley while wearing a black and white dress that concealed her stomach. So fans were definitely excited to congratulate Cardi B when she used her "Be Careful" performance to confirm that she is expecting her first child with her fiancé Offset from the group Migos. As many Twitter users pointed out, Cardi B took a page out of the Beyoncé pregnancy announcement book by simply showing off her bump to let everyone know she's expecting (Beyoncé famously pulled back a glitter blazer to reveal her baby bump at the 2011 MTV Video Music Awards).
Well, thanks to Cardi B showing off her baby bump on SNL, her fans are definitely excited to finally congratulate Cardi B on her pregnancy.
Cardi B also confirmed her pregnancy in a tweet early on Sunday morning.
"I started winning when the whole world was doubting on me! Think Imma lose with my little baby counting on me?"
Offset took to Twitter on Saturday night to also confirm the pregnancy news, and he wrote that the couple is "looking forward to our next chapter together."
"Is Cardi B having the best year ever, or what!?!? CONGRATS MAMA-TO-BE!"
"Awwwww FINALLY she's showing it, Cardi B is pregnant ... HAPPY!!!"
"I stan everything about this."
"AHHHHH! congrats! We still love you! OKUURRRR."
"I'm genuinely so happy for this woman."
"Feel so blessed that at some point in my lifetime I'll see the child of Cardi B and Offset have a fire rap career."
"Woooo lil baby Cardi on the way."
"I'm so happy someone like Cardi B is winning."
Cardi B fans were previously wondering whether Cardi B hinted at her pregnancy in her song "Money Bag" because of a lyric that mentions Beyoncé. The "Money Bag" lyrics go:
I said 'Bae, it's a snack,' he said it's a entrée. With them pretty ass twins, you look like Beyoncé.
Whether or not Cardi B was hinting at her own pregnancy with the Queen Bey reference is still unknown, but Cardi B put all the rumors to rest by finally confirming she is expecting her first child. Twitter was really living for the Beyoncé-esque reveal, too.
"Cardi B is pregnant and ohhh she looks so pretty with that white dress and that BABY BUMP!! GURL!! You surprised us all. It reminds me of when Beyoncé announced her pregnancy after her 'Love on Top' performance."
"Cardi B revealing she's pregnant on SNL reminds me of when Beyoncé debuted her baby bump at the 2011 VMAs. Congrats on the pregnancy, Cardi B."
"I wish it was the late '90s so I could watch pregnant clay 2011 VMA Beyoncé and pregnant clay 2018 SNL Cardi B wrestle each other on Celebrity Deathmatch."
"Beyoncé got pregnant before Coachella last year, and now Cardi B got pregnant before Coachella this year LOL."
By the looks of it, people are ready for a mini Cardi B, but the couple hasn't yet revealed if they're expecting a boy or a girl, so everyone will have to wait and see. Until then, though, I suspect her fans will keep showing the love for Cardi B during this exciting time!