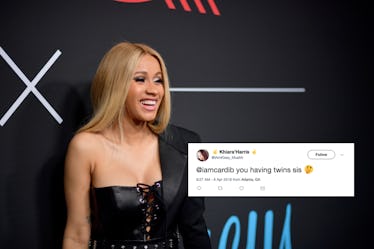 Fans Think Cardi B Is Pregnant With Twins Because Of This Lyric In Her Song
Matt Winkelmeyer/Getty Images Entertainment/Getty Images, Twitter
The day is finally here! Cardi B dropped her debut album Invasion Of Privacy on Friday, April 6 and it's straight fire. Between the fresh raps and fun beats, fans can't get enough. A lot of fans are looking deeper into Cardi's lyrics to find hidden clues about her personal life, and they've caught onto one that's causing a firestorm on Twitter. Many fans think Cardi B is reportedly pregnant with twins because of the lyrics in her song "Money Bag." Elite Daily reached out to Cardi B's team for comment on the speculation but did not hear back by the time of publication — even so, the line is further fueling the pregnancy fire.
The lyrics to "Money Bag" go:
I said 'Bae, it's a snack,' he said it's a entrée. With them pretty ass twins, you look like Beyoncé.
Beyoncé fans know the artist is mom to not only Her Highness Blue Ivy, but also twins Rumi and Sir Carter, who were born back in June 2017. This line isn't the only shoutout Cardi gave to Queen Bey on Invasion Of Privacy, so it could mean nothing. In the song "Best Life," Cardi mentions Beyoncé twice. She raps,
Police, no Andre, G like 'Venchy, reach like 'Bron James, pep talk from Yoncé
Later in the third verse, Cardi raps,
I took pictures with Beyoncé, I met Mama Knowles
Regardless of Cardi B stanning Bey multiple times on the album, some fans on Twitter still think her line in "Money Bag" might be a clue that she's pregnant with twins.
While these fans take her lyric literally, Cardi could mean anything by the words. Raps aren't always literal, y'all.
Rumors that Cardi B was pregnant first started swirling back in September 2017 before she got engaged to her fiancé, Offset, of the group Migos. Then, in February 2018, Cardi seemed to have addressed the pregnancy rumors on Instagram. According to a report from People on Feb. 3, Cardi responded to a fan who asked her if she was pregnant by saying, "no b*tch I'm just getting fat. Let me fat in peace." Offset also commented on the pregnancy rumors on Feb. 16. According to BET, Offset said to a paparazzo who asked about the pregnancy rumors, "I'm only a father to three ... I don't know what the hell you're talking about."
Cardi B broke her silence about the pregnancy rumors once more while talking to Beats 1's Ebro Darden on April 5. She told him,
I feel like people just got to tune in a little bit on my album and they will know a little bit more because I can't address all the rumors and everything.
Many fans thought that might have been a clue Cardi would address the pregnancy rumors on her album. One fan tweeted, "I just listened to cardi B's entire album because I wanted to know if she was pregnant." Another said, "First of all @iamcardib said you will find out if she pregnant or not off the album. Siiiissssss what track? I didn't hear sh*t. Is this your private moment you were speaking of? She bamboozled us. #InvasionOfPrivacy #BardiGang #CardiB this album was dope af though!"
In her interview with Beats 1, Cardi addressed the name of her album and alluded to the fact that she wouldn't be sharing every part of her life with fans. She said, "I have been so open to people about myself. People cannot expect me to be open about everything. Certain things to me, it has to be private. You cannot invade my privacy."
So, are fans on Twitter on to something with that Beyoncé lyric? Maybe. Could they be completely wrong? Yes. Fans will just have to wait to hear from the boss herself on whether she's expecting or not.