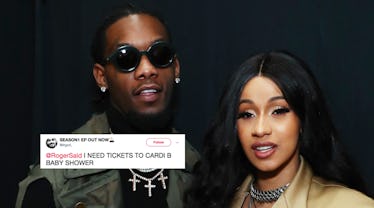 Cardi B Is Reportedly Pregnant With Offset's Baby & Twitter Can't Deal
Astrid Stawiarz/Getty Images Entertainment/Getty Images
THIS IS NOT A DRILL, PEOPLE. According to TMZ, our fave lady Cardi B is reportedly pregnant and I am losing my damn mind. Can we just imagine for a moment that she and rapper Offset are truly expecting a child together? What a time to be alive. This isn't the first time there have been pregnancy rumors, though. She apparently told nightclub staff that she was expecting back in February, but later denied it, as did her fiancé. Elite Daily has reached out to her team for comment and confirmation of the report, but has not heard back at the time of publication.
You guys, maybe she was just trying to skip the line... or maybe SHE REALLY IS PREGNANT AND NOW MY HEART IS BURSTING.
Do remember back in February when Cardi B shared a video of herself on Instagram, looking like a #queen, rapping and dancing? A user commented on her post and wrote, "Is there maybe a Kylie Jenner secret that we need to know about lol Just asking." In true Cardi B form, she responded by saying, "no b*tch I'm just getting fat. Let me fat in peace," so who knows if this is a rumor or not.
But what if it's not a rumor? FAM, WHAT IF IT'S NOT?
I just need some time to process this, Okurrr?
And I'm not the only one who needs a minute to collect themselves. Fans are hopping on Twitter and freaking the eff out, because why would they not? This is pretty momentous news (if it's true, of course).
Some fans were like DUH, there have been so many signs:
Others were simply overjoyed at the speculation:
And all some fans could think about was an invitation to her baby shower:
I mean, if she is pregnant, is there a way to score tickets to her shower? Asking for a friend.
But some fans are like, "not so fast," because again, there is *zero* confirmation from Cardi B or Offset about the pregnancy rumors:
Good on you, friends. Good on you.
Then there are some fans who aren't exactly reporting on the situation, but instead are bringing nothin' but jokes:
Oh man, the puns are officially running wild, and I don't hate it.
In case you didn't know, Offset proposed to Cardi B back in October of 2017 in the most extra way possible: by getting down on one knee onstage during a live concert in Philadelphia, in front of everyone... with an 8-carat diamond ring.
Do you see that thing? Of course you do. Astronauts in space do. It's MASSIVE.
She's already divulged tons of wedding plans, and during an interview at the Grammys, she said that her wedding is not just going to be "a one day thing," because 24 hours is clearly not enough for a Cardi B celebration. She said that she wants the wedding festivities to be a "week-and-a-half thing," adding that, "You know, we gotta do a honeymoon." Hell yeah you do, girl!
She also interviewed with BBC Radio One and basically said she's all about makin' money moves for her wedding with her own dolla dolla bills:
I don't think that will be fair. I don't like putting all that responsibility on my man. No, it's a partnership. And I feel like my expenses [are] going to be more expensive than his. I feel like my wedding dress itself is going to be at least $50,000... it's got to be extravagant.
Because our girl is I-N-D-E-P-E-N-D-E-N-T, and is successful in her own right.
So, do you think we should be preparing for a Cardi B wedding AND a Cardi B baby?
Who am I kidding, I've been ready for news like this since Day One.
Officially living for Cardi B.