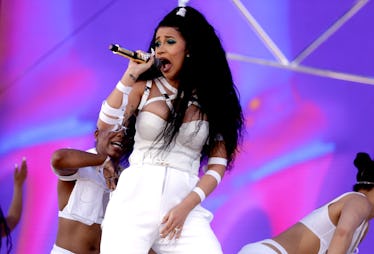 Cardi B Just Announced She's Taking A Break From Performing & I'm So Sad
Rich Fury/Getty Images Entertainment/Getty Images
I've got good news, and I've got bad news. The bad news is that fans may be seeing a little less of Cardi B for a while. I know, I know. It's a hard pill to swallow. But the good news is that she's still got a few performances left up her sleeve before her baby arrives, so let that console you just a bit. So, when will Cardi B perform next? As you all know, the rapper is expecting her first child with fiancé Offset, so she'll be taking a break to ensure that she keeps her and her baby bump happy and healthy.
The 25-year-old rapper, who just dropped her debut album, Invasion of Privacy, on March 26, is currently crushing life right now with her music, but has to hit pause for a little while so that she can rest up and prepare for her baby. Totally makes sense, since the cut-off limit for twerking on stage is probably seven months. I get it, Cardi. I'll miss you, but I get it.
Cardi B took to Instagram on Wednesday, April 25, to share the news with her fans, and she did it in the most Cardi way possible.
In the video, she said, "So I just wanted to make this a little clear and everything. Broccoli Fest will be my last performance for a little while," she began. She continued, saying, "Because, you know, shortie keep growing. I be looking like I be moving and everything, but in reality, a b*tch barely can breathe! I want to thank y'all for understanding. I'll be back for the Bruno Mars tour and everything."
Phew. So fans will still get to see her at Broccoli Fest, which is on Saturday, April 28, in Washington D.C., and she'll still be performing with Bruno Mars at his 24K Magic Tour, which starts on Sept. 7, so don't fret too much.
In her video, Cardi B also included her fantastic bird noise (you know what I'm talking about, don't even play), and told her fans that she loves them and to keep supporting her. She finished by saying, "And make sure y'all keep checking out my album, Invasion of Privacy, and — see, I can barely breathe now! I can barely breathe now. I ate like, six chicken wings and a b*tch can barely breathe right now!"
And this is why I love Cardi B so very, very much.
She's made it very clear that being pregnant won't stop her in the slightest — and her Coachella performance this year was total proof that she's doing the damn thing regardless of her growing belly. (No, seriously, she twerked on stage more gracefully than any non-pregnant woman can, and for that reason, fans should all bow down to her.)
And when Cardi B visited iHeartMedia's Power 105.1 The Breakfast Club show on Tuesday, April 10, to talk about her successful career and her newly announced pregnancy, she explained that she doesn't have any reservations about combining those two things. She said, "I'm a grown woman, I'm 25 years ago, I'm a schmillionaire ... I'm prepared for this."
She also doesn't understand why people don't think you can be a young, famous rapper and pregnant at the same time. She said,
It just really bothers me and it disgusts me, because I see a lot of women online like, 'Oh, I feel sorry for you. Oh, your life is over.' It's like, why can't I have both? Why do I have to choose between a career and a baby? I want both.
Heard that, everyone? The lady will take both, please and thank you.
Okurrr? Okurrr.