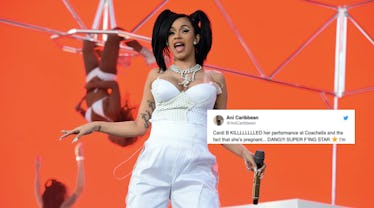 Cardi B Performed At Coachella While Pregnant & Twitter Couldn't Handle It
Kevin Winter/Getty Images Entertainment/Getty Images
How do I love Cardi B? Let me count the ways. But it's not just me, because the entire world sees just how talented and hilarious the rapper is. And, since revealing her pregnancy, many people didn't know how she'd perform at her Coachella set on Saturday, April 14. But guess what? In true Cardi B style, she absolutely crushed it, proving that you can be pregnant and still kick *ss on stage. And don't think that she simply stood up in front of the hundreds of thousands of people and sang — no, no, no. Our girl got down, and it was an actual dream to witness. If you don't believe me, then maybe these tweets about Cardi B's Coachella performance will show you how the mama-to-be rocked the damn stage off.
Before we dive into that, I just want to express my sheer gratitude for the way Cardi B announced her pregnancy. On Saturday, April 7, she was Saturday Night Live's musical guest, and performed earlier in the night to a "Bodak Yellow"/"Bartier Cardi" medley wearing a black and white dress that hid her baby bump. But during her second performance, "Be Careful," she came out wearing a fitted white dress that showed off her growing belly. It was of course, at that point, very obvious that she and fiancé Offset are expecting their first child together.
And it looks like Cardi used the stage to her advantage now that she's pregnant, because her Coachella performance was equally crazy good. She took the stage with 21 Savage, YG, G-Eazy, Chance the Rapper, and Kehlani for a few numbers, and also performed plenty of her new music off her debut album, Invasion of Privacy.
She was showcasing her bump and dancing better than I ever will while not pregnant:
Like, bringing dancing to an entirely new dimension:
And generally just showing the world how remarkable she truly is:
So naturally, fans took to Twitter to bow down to the queen:
And other fans joked about how, if Cardi B can crush the stage at Coachella while pregnant, other pregnant women have no excuse (I understand the idea, but disagree whole-heartedly, BTW. Pregnant women, you do as little as you damn please):
Some just admired the sheer strength it must take to perform while pregnant:
Honestly, same.
And when it comes to her pregnancy, Cardi sat down with iHeartMedia's Power 105.1 The Breakfast Club show on April 10 and explained that even though the pregnancy wasn't planned, she's totally ready. "I'm a grown woman, I'm 25 years ago, I'm a schmillionaire. ...I'm prepared for this," she said.
She also talked about how she doesn't understand the negative attention that comes her way now that she's pregnant, and doesn't understand why people think a woman has to choose between her career or her family. She said,
It just really bothers me and it disgusts me, because I see a lot of women online like, 'Oh, I feel sorry for you. Oh, your life is over.' It's like, why can't I have both? Why do I have to choose between a career and a baby? I want both.
She also added, "I don't want to wait until I'm 30-something to have a kid. I want my kid now, now that I have energy."
You know what, Cardi? You can have both. Because you're a fierce, talented, bad*ss woman who can run the world if you so choose. Let's stop hating on Cardi for her decisions because, from the looks of it, she's doing juuust fine without our help.
Okurr? Okurr.