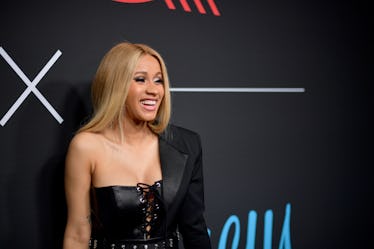 Cardi B Got Real About Her Pregnancy & Career: "Why Can't I Have Both?"
Matt Winkelmeyer/Getty Images Entertainment/Getty Images
If you missed the big announcement, let me be the first to tell you. CARDI B IS PREGNANT, YA'LL! The "Bodak Yellow" rapper made the announcement during a performance on Saturday Night Live, letting fans know she and her fiancé, Offset, are expecting. The good news comes in the middle of their whirlwind relationship, but don't think anything is slowing Cardi B down. In a new interview, Cardi B got real about her pregnancy and her career, and just so you all know, she's totally prepared to handle it all. Okurrrr? (Her word. Not mine.)
Cardi B visited iHeartMedia's Power 105.1 The Breakfast Club show on Tuesday, April 10 to talk about her growing bump and what it's like to make a family at the height of her career. She explained that for her, she's just not that worried about managing it all. Cardi B said, "I'm a grown woman, I'm 25 years old, I'm a schmillionaire. ...I'm prepared for this."
Furthermore, she doesn't appreciate everyone weighing in and doesn't understand, frankly, what the big deal is. She added, "It just really bothers me and it disgusts me, because I see a lot of women online like, 'Oh, I feel sorry for you. Oh, your life is over.' It's like, why can't I have both? Why do I have to choose between a career and a baby? I want both."
When asked if the pregnancy was planned, Cardi B admitted it was not, but she's jazzed to become a mother. In fact, her preference is to have a baby at the age of 25. She explained, "I don't want to wait until I'm 30-something to have a kid. I want my kid now, now that I have energy."
Listening to her talk, it sounds like the people around her have their concerns about it slowing down her music momentum, but Cardi B doesn't agree. She said, "A lot of people were telling me, 'What are you doing? What are you doing?' And I'm like, 'OK, I'm pregnant, but I have a game plan, Y'all gonna have a job still.'"
It's this kind of confidence and assuredness that makes Cardi B so fun to watch. Back in January, rumors began circulating that Offset performed in sex tapes with other women. Of course, haters were quick to jump all over Cardi when she made the decision to stay with him. Elite Daily reached out to both Cardi B and Offset's teams for comment on the cheating rumors, but did not hear back by the time of publication.
At the time, she explained to Cosmopolitan:
It's like everybody is coming down my neck, like, 'Why are you not leaving him? You have low self-esteem.' I don't have low self-esteem. B*tch, I know I look good. I know I'm rich, I know I'm talented. I know I could get any man I want — any basketball player, football player. But I want to work out my sh*t with my man, and I don't got to explain why. I'm not your property. This is my life.
Damn right, it is.
Today, those rumors seem to be the furthest thing from Cardi's mind. She and Offset are busy planning for a fall wedding, maybe in Atlanta, Georgia, and she's busy growing another human being while simultaneously launching her new album, Invasion of Privacy.
During a guest-hosting stint on The Tonight Show Starring Jimmy Fallon, she said, "I don't know if it's the strength of the fetus, but I have never felt so hungry to succeed."
Honestly, I can't wait to watch Cardi B and this baby take over the world.
Check out the entire Gen Why series and other videos on Facebook and the Bustle app across Apple TV, Roku, and Amazon Fire TV.