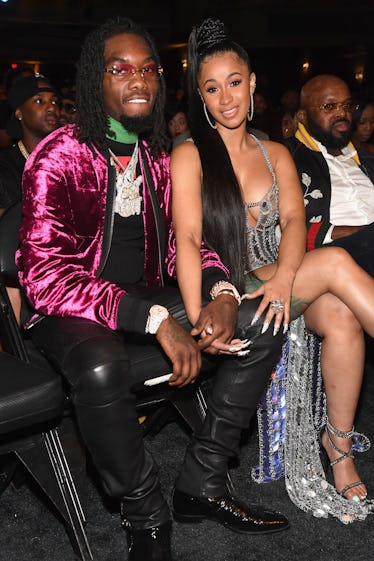 Cardi B Gave New Details On Her Wedding To Rapper Offset & I'm Screaming
Paras Griffin/Getty Images Entertainment/Getty Images
I am having the time of my freaking life following Cardi B and Offset's journey. Their romance has all the makings of an epic love story. Passion, lust, diamonds, a wedding, and now, a baby. The two rap stars are moving forward with their wedding arrangements, and Cardi B recently revealed a few more details about the big day. So, where will Cardi B and Offset get married? It seems like they have one location in mind.
Cardi B recently sat down with GQ magazine to talk everything Cardi. From her butt injections to her fast fame, B did not hold back. One thing she revealed is that she and Offset are planning a fall wedding and they're aiming to say their vows in Atlanta. Cardi B claims Offset is not as comfortable in her hometown of New York as much as he is in the south. "I always feel like his people and him gotta feel comfortable," she said.
Cardi B explained,
[Offset]'s never comfortable in New York. He loves down south. He told me to move in with him, in Atlanta. I stayed in his house a couple of times, but it's so hard to live there. He decided, though, that we're going to build a house in Atlanta, and that's the house that we're gonna raise our kids in. But my job is in New York, always, so I can barely spend time in Atlanta.
This wedding location revelation is a far cry from where the fiancés were at the beginning of the year. After a series of sex tapes allegedly featuring Offset with other women began circulating the internet in January 2018, he told Rolling Stones wedding plans were on hold as of Jan. 23. At that time, he told the magazine, "We ain't, we ain't planning it right now. We chilling." Elite Daily reached out to both Cardi B and Offset's teams for comment on the cheating rumors, but did not hear back by the time of publication.
Despite the public rumor mill, Cardi B and Offset made the decision to stay together. Cardi B explained to GQ,
It was just too much playing games. He would look for me; sometimes he would take a jet to me. And it was just like, 'Let's stop playing. We really love each other. I'm scared to lose you, and you scared to lose me.'
Similarly, she suggested to Cosmopolitan there might be more going on in her relationship than the public knows about, and honestly, it's none of our business, anyway. She said,
It's like everybody is coming down my neck, like, 'Why are you not leaving him? You have low self-esteem.' I don't have low self-esteem. B*tch, I know I look good. I know I'm rich, I know I'm talented. I know I could get any man I want — any basketball player, football player. But I want to work out my sh*t with my man, and I don't got to explain why. I'm not your property. This is my life.
She added, "It's not right, what he f*cking did — but people don't know what I did, 'cause I ain't no angel."
Today, Cardi B and Offset are happily engaged and expecting their first kid together. She made her epic pregnancy announcement as part of a live performance on Saturday Night Live in which she proudly displayed her baby bump in a white dress.
She also tweeted out the following message on April 8:
Can't deny it, I love to love Cardi B and Offset. Congratulations on all the good news, guys. Hotlanta — they're coming for you!
Check out the entire Gen Why series and other videos on Facebook and the Bustle app across Apple TV, Roku, and Amazon Fire TV.