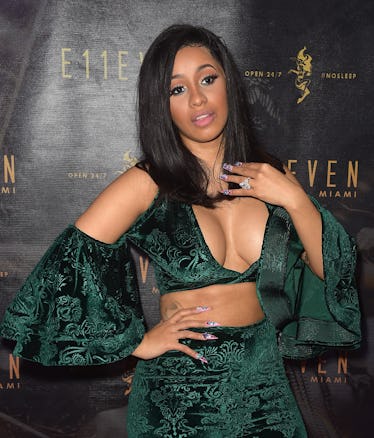 Cardi B's Wedding Is Definitely Going To Be So Extra & We're Here For It
Gustavo Caballero/Getty Images Entertainment/Getty Images
October of 2017 will be a time where everyone remembers that Cardi B and rapper Offset got engaged — not because we're all hopeless romantics, but because the engagement ring is the biggest rock we've all ever seen. Who says true love is dead? Look, we're not trying to diminish the proposal, which was actually really sweet. On Oct. 27, Offset got down on one knee during a live concert in Philadelphia and asked for Cardi B's hand in marriage. Because Offset proposed in a not-so-private place, there were many people there to witness the moment (and capture it on video). And now that it's been a few months, everybody is anxious to hear Cardi B and Offset's wedding details, because with a ring like that, you know that wedding is going to be off-the-charts.
For those of you who were too blinded by Cardi B's eight-carat engagement ring to even check out the video of Offset proposing, you're doing yourself a disservice. Take your eyes off her ginormous diamond for just one moment, and feast your eyes on a short video of what true love looks like (aka a man holding a very beautiful ring in his hand, proposing the idea of marriage to his girl):
OK, now back to looking at Cardi B's ring:
How does she even hold her hand up without it feeling weighted down? These are the questions that I, someone who does not own an eight-carat diamond, would like the answers to.
Already, we're learning a few things about the "Bodak Yellow" singer's dream wedding and — spoiler alert — it sounds like it's going to be just as fabulously over-the-top as Cardi B herself.
Cardi B and Offset are going to have a red wedding.
No, it's not going to be like the Game of Thrones wedding (or at least we hope not). But the wedding will have a dress code, apparently. In an interview with New York Magazine, Cardi B tells the publication that her guests better be wearing crimson. She said,
The world is not ready for it. Everybody got to be wearing red.
Damn, sounds like you won't be able to get through the door if you're not repping the first color of the rainbow.
Jury's still out on whether or not everyone has to be in Louboutins.
Her bridesmaids are not going to be wearing dresses.
Did you really think Cardi B was going to make her besties stand beside her in something ordinary? Don't get it twisted. In that same interview with New York Magazine, she talks about how her girls will be attending her wedding looking stylish in suits. She said,
And my bridesmaids are gonna be wearing suits, what's good.
So I guess we can rule out any thoughts of lavender gowns, a là Bridesmaids:
She's ready to drop some serious dough for her wedding day.
If you make big money, you get to spend big money, which is sadly a concept I don't understand. But Cardi B surely does, because in an interview on BBC Radio One, she talks about how she's totally fine with paying for the wedding together with Offset. She said,
I don't think that will be fair. I don't like putting all that responsibility on my man. No, it's a partnership. And I feel like my expenses [are] going to be more expensive than his. I feel like my wedding dress itself is going to be at least $50,000... it's got to be extravagant.
Most people spend $50,000 on their entire wedding, while Cardi B has that in her budget for just her wedding dress. So, you know, #weddinggoals I guess.
A track from Migos (sadly) won't be their wedding song.
While it would be cool to play a song that the groom is literally a part of creating, Cardi B told Beats 1 Radio that she wouldn't reveal the exact song, but did let a little information out. She said,
I'm not gonna say it because I'm not gonna sound sensitive ...It's between Al B. Sure! or Grace Jones.
Basically, they are going to dance to some R&B and show the world that their wedding is once in a lifetime, OK?
Cardi, if you have any last-minute guests who can't attend, I'm just letting you know that I conveniently have a beautiful red dress for the occasion, so hit me up if you need me.