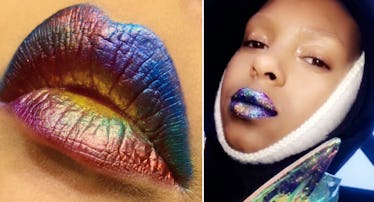 "Oil Slick Lips" Are The Runway Trend You Can Wear IRL & The Photos Are Mesmerizing
When it comes to beauty, fashion month can inspire some of the most wearable and outlandish trends, alike. One Paris show, in particular, has set the internet abuzz with a very curious question: What are oil slick lips? While they might sound gloopy and like a runway-only look, I, for one, can't wait to try them out for festival season and beyond this year. They're sparkly, witchy, and head-turning — what's not to love?
The mastermind behind the lip is none other than makeup aficionado Pat McGrath (naturally), who created a slew of different pouts for Maison Margiela's Fall 2018 show. From cobalt blue to ultraviolet to John Deer green, the jewel tone hues were eye catching, shocking, and alluringly unnatural. They stood out against the models' otherwise bare faces, and were often framed by fashion-forward protective hoods. Paired with the collection's color-blocked trench coats and puffers, they looked like a modern interpretation of '80s cool.
Even taking into consideration the dazzling silver lips one model rocked, the stars of the show were, undoubtedly, the oil slick mouths. Sported by a handful of models wearing holographic looks to match, they looked futuristic, inter-galactic, from another dimension. If aliens are real, I can only hope they look as cool as these models did. As described by The Cut, the lips were painted with "multicolored design that effortlessly blended shades of royal purple, silver, and Studio 54 gold into a swirly nebula." When models moved their heads, it was as if you were witnessing a show in a planetarium about the Milky Way, with stars zinging across their lips and clouds of color wafting by. To say they were captivating would be an understatement.
On their Facebook page, Maison Margiela wrote of the collection: "In a play between layers, transparency and reflection, garments become transformative and generate a sense of unconscious glamour." A glamour which flawlessly translates to beauty, though not in the bombshell cherry pout of Hollywood's golden days passed.
If you look at the oil slick lips closely, it looks like they might have first been solidly coated with a shock of pigmented purple, before having splotches of blue, gold, and green sparkle added on top. I wouldn't be surprised if she used products similar to those found within her McGrath Labs Lust 004 Kits, which were released in 2016 and gave wearers glitter bomb lips. If this is McGrath's way of giving us a sneak peek at a new shimmery lip kit, I am all about it.
McGrath Labs Lust 004 Kits, $60, Pat McGrath Labs
Although the inky rainbow lips are currently having a buzzy moment on social media (and rightly so! they rock!) they've actually been around for a little while, just in various iterations. Take a look at the Twitter search results for #oilslicklips, and you'll see what I mean.
Although they vary in appearance — some are much more rainbow, while others err on the inkier side — they all certainly have that rainbow sheen that's so hard to pinpoint through words.
When the petrol lewk first appeared in 2016, Cosmopolitan UK even did a "How-to," of sorts, explaining that "the trick it seems, used by the makeup artists of Instagram, is using a dark blue or black base on the inner two thirds of their lips before layering and blending out multiple iridescent eyeshadows."
While I prefer McGrath's take on the trend, it sounds like her method might be similar, just with slightly different products. Regardless, I'll definitely be trying the look out for festivals this summer (I like to go all-out with crazy outfits and makeup to match). I'm totally starstruck.
'