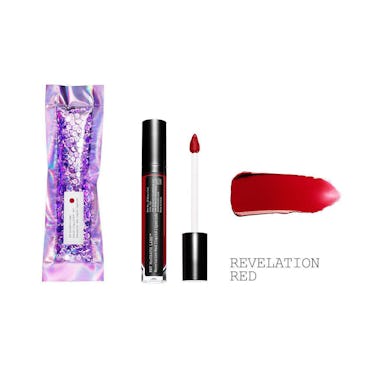 You Can Now Buy This Cult-Favorite Makeup Brand On Spotify, So Listen Up
Did you notice anything different when you opened up Spotify this morning? Anything a bit more glossy about it? Perhaps you're wondering how to buy Pat McGrath "So Obsessed" lipsticks on Spotify, because that's an actual thing. You read that correctly: You can now buy makeup from the music app, and not just any ole kind, but the cosmetics of beauty genius Pat McGrath.
Beauty products have long been the focal point of brick-and-mortar stores. Next time you stroll through your favorite department store, notice how you have to walk through the beauty counters on your way in and out of the store. In smaller stores, all of those impulse buys lined up by the cash registers are my downfall. Admittedly, I have a penchant for anything miniature and the products lining the checkout line are often of small stature. But thanks to PatMcGrath, Spotify, and the year 2017, I can now (theoretically) avoid wasting my money on things I don't need, and potentially even interacting with other human beings at all.
As of this glorious day, Nov. 13, 2017, you can jam out to Maggie Lindemann on Spotify whilst simultaneously shopping for the beauty world's hottest new products, directly from her artist page. Lindemann debuts her newest single, "Obsessed" on Friday Nov. 17, but because the artist has teamed up with McGrath for this monumental occasion, you can get a sneak listen to it in the promo video for the launch. In the video, Lindemann rocks a full face of Pat McGrath makeup designed to accompany her song. Accordingly, McGrath calls the collection "So Obsessed."
Listeners can shop the "So Obsessed" products directly from Lindemann's Spotify page. Clicking on the products there will take you to Spotify's partnership site, MerchBar, and that's where you'll order what you want, nay, need. On the off-chance you're not already jamming out to Lindemann's tunes on the Spotify app, you can also go directly to the MerchBar site for purchasing.
In a still from the promo video, Lindemann looks drop dead gorgeous while modeling McGrath's creations. Crimson lip, crazy-voluminous lashes, and lit skin? Check, check, check.
In the shot, Lindemann seems to have opted for McGrath's Liquilust gloss in Revelation Red. The high-shine lip gloss comes in a sequin-tastic package that's almost as beautiful as the gloss itself.
Another product from "So Obsessed" is this super shiny mauve gloss, which is righteously obsess-worthy.
The most-pigmented lip color in the "So Obsessed" lineup is this epic blackberry, called Nightshade. Pair it with the PermaGel Ultra Lip Pencil for the most extra experience.
In addition to the glosses, Lindemann and McGrath are offering eyeshadow palettes, eyeliners, and lip pencils. All of the products are available through Lindemann's Spotify page as well as MerchBar.
This eye palette is almost too rock and roll for my own good. There are also two other palette options if you're a little more country.
This bronze-y eye pencil rounds out the collection, which may be only the first in the future of shopping.
If you're wondering who thought to launch a makeup line in partnership with a new single, thank McGrath. The legendary makeup artist found her campaign star in Lindemann when she was scrolling through Instagram, so it only makes sense that these products are available for purchase through another popular app. "Her sense of personal style is bold and confident," McGrath says of Lindemann. Between her groundbreaking choice to sell her cosmetics on a music-streaming app, and finding her muse on Instagram, McGrath clearly knows her fan-base.
McGrath is well aware that this is a unique way of shopping, and is pleased to to provide such "instant glamour gratification" to her fans (McGrath has fans, not customers, to be clear).
"I'm all about reinvention — upending traditional beauty standards and ideals, as well as what it means to be a brand in the beauty industry and how we connect with consumers. My vision for the beauty industry is that it emboldens people to break free of the standard mould and embrace an approach to cosmetics that inspires unadulterated individuality."
For her part, Lindemann relishes this new step for the beauty industry, as well as her role in it all. "Being a #McGrathMuse is all about confidence, radical individuality and strength of character," she told Harper's Bazaar UK. Lindemann also recognizes that McGrath is not your typical cookie cutter makeup artist, and that's part of her appeal.
"I'm drawn toward individuals who represent a non-traditional approach to beauty and am devoted to raising them up to icon-worthy status so they can be an inspiration to individuals all around the world—regardless of age, gender, sexuality, religion, race, culture or creed."
The rising star is just as honored to be a part of McGrath's empire as I am to be able to purchase it, directly from the comfort of my Spotify app. I'm 100 percent behind anything that combines sick makeup, inclusivity, and not dealing with another living person while shopping. Like Lindemann's croons, I'm "Obsessed."