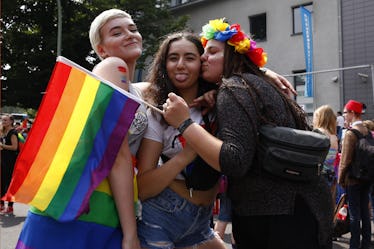 What To Wear To Pride, So You Can Look Festive AF & Give Back At The Same Time
Michele Tantussi/Getty Images News/Getty Images
Each June, we honor the 1969 Stonewall riots by celebrating Pride Month. From parades to workshops to concerts and more, the events held in memoriam are as diverse as they are meaningful. With many fashion brands selling merch that both looks festive and gives back, what to wear to Pride 2018 is a no-brainer. A portion of the sales of each item below will go to a cause benefitting the LGBTQ community, so why wouldn't you shop for change?
The Stonewall riots, which occurred in Manhattan, are widely considered the initial spark in the gay rights movement and happened in response to unfounded police harassment and assault against the gay community. Within the six months after the riots occurred, two gay activist organizations were formed in New York and within a few years, gay rights organizations had been founded all across the United States. The riots served as a catalyst for the modern fight for LGBTQ rights in the United States and, rightly, are commemorated each June.
If you've ever attended a Pride march or event then you know that going all out with your look is highly encouraged. Rainbow, glitter, empowering slogans, and the most creative custom pieces reach as far as the eye can see. Brands come out in droves to support Pride by creating collections whose proceeds go to various organizations that benefit the LGBTQ community, the coolest of which you can find below. Happy Celebrating!
<3 is <3
Go green and support equality with this canvas tote bag. 50 percent of its purchase price will go to the Human Rights Campaign.
Double the Fun
10 percent of proceeds from the sales of this awesome rainbow-emblazoned tank go to The Link MN's Project Live Out Loud, which is a culturally specific Rapid Rehousing program for youth who identify as lesbian, gay, bisexual, and/or transgender (LGBTQ). With its relaxed fit and sleeveless silhouette, not to mention it's cheeky graphic design, this tank is perfect for all of your lazy weekends to come.
Technicolor Tread
It's easy to see that these running sneakers are just plain cool. (Rainbow tends to render just about anything awesome.) But the fact that 100% of their proceeds (and the rest of Under Armour's Pride Collection!) go towards Athlete Ally, a nonprofit whose mission "is to end the rampant homophobia and transphobia in sport and to activate the athletic community to exercise their leadership to champion LGBTQ equality," according to their website.
Lots of Love
H&M is another brand that's released an entire collection for Pride, with 10m percent of its sales going to the UN Free & Equal campaign, which supports equal rights & fair treatment for LGTBQI+ people everywhere. My favorite piece is this rainbow "LOVE" lanyard, which is outfitted with a whistle and can detach into a handy keychain.
Get Cheeky
The cutest underwear I ever did see! Their rainbow waistband and motif are so bright you can't help but to have a good day if you're wearing them. The best part? It's only one of many items within Lane Bryan's' Pride Collection. 10 percent of sales from the collection will benefit GLSEN, a national education organization working to create safe and inclusive K-12 schools for all, regardless of sexual orientation or gender identity.
We Should All Be...
The only kind of feminist to be! Why not wear it loud and proud? A portion of proceeds from this tee will go back to The Trevor Project, which "is the leading national organization providing crisis intervention and suicide prevention services to lesbian, gay, bisexual, transgender, queer & questioning (LGBTQ) young people under 25," according to their website.
Suit Up
This swimsuit is all kinds of '90s cool but it becomes even more rad when you hear its backstory. Speedo USA launched a limited-edition Pride collection to help support inclusion and diversity and swimming; the brand will donate a range of the collection's products to United States Masters Swimming LGBT teams.
Star Power
I will never get over embroidered denim, especially in jacket form. This jacket, which reads, "I have seen the future," is part of Levi's' Pride Collection. 100 percent of proceeds from the collection will benefit LGBTQ communities.
Human Person
Known for it's "radical transparency" and ethical production methods, Everlane is a brand whose ethos and business practices I love. Their 100% Human collection is not only cute and affordable, but $5 from the purchase of any product within it is donated to the Human Rights Campaign.
Short Order
Who wouldn't want to spend a day in these boy shorts? MeUndies are known for optimal comfort and optimal cuteness, as you can probably see above. Designed in collaboration with Oscar Zaldaña, a percentage of proceeds from each pair of the True Colors collection will go to the True Colors Fund, which works to end homelessness among LGBTQ youth, throughout Pride month.