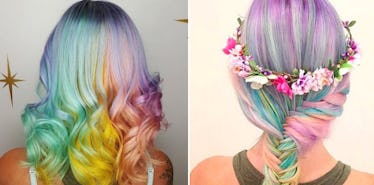 'Unicorn Hair' Is The Magical Beauty Trend About To Take Over This Spring
Instagram
Pegasus, is that you?
Spring is finally here, and with the arrival of sunshine and floral prints, the change of season also brings a slew of popular new trends.
This year, it looks like other-worldly styles are taking over the market.
Unicorn hair is here, and it has everyone running to the salon.
Created by makeup company Lime Crime, known for its high-quality iridescent pigmentation and overall shimmery aesthetic, Unicorn hair is 13 shades of springtime fun.
With shades like "Pony" (electric violet-purple), "Strawberry Jam" (a muted pink-red) and "Salad" (bottle-glass green), this hair trend isn't for those who favor convention.
You won't find any traditional chocolates or golds on the site when the dyes drop on Monday, April 3.
For $16 a pop, Unicorn Hair is sure to explode not only because summer is almost within reach, but also because music festival season kicks off in less than a month and concert goers will be tripping over themselves to find the best way to stand out from everyone else in the crowd.
The vegan and cruelty-free brand has been hinting at this announcement for a week or so, however, the Instagram announcement said Lime Crime CEO Doe Deere has been working on this project for three years.
The dyes come in two different formulas: full coverage and tint.
The difference between the two is the potency of the dye, according to Lime Crime, while full coverage provides a vibrant shade for "lightly bleached and platinum blondes alike," the tint is more sheer and creates a more pastel shade.
And while it is known many dyes fade rather abruptly, and can leave users with some pretty unfortunate-looking roots, Lime Crime boasts that the semi-permanent dye was formulated to fade gracefully because "anything less wouldn't be worthy of a unicorn."
So get to dyeing, unicorns.
Citations: Lime Crime's New Unicorn Hair Dyes Are Going to Make the Internet Explode (Seventeen)