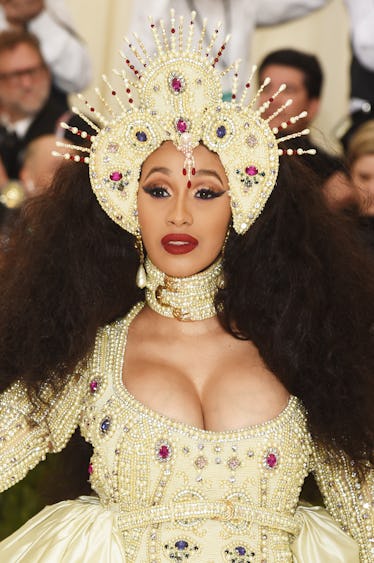 Cardi B's Met Gala Look Is Drippin' In Finesse & She's Giving Beyoncé A Run For Her Money
Jamie McCarthy/Getty Images Entertainment/Getty Images
I have a lot of special days that are penciled into my calendar, but I would wholeheartedly say the first Monday in May — the night of the annual Met Gala — is at the top of my list of favorite days of the year. While I'm excited about pretty much everyone's looks at tonight's event, Cardi B's 2018 Met Gala look is absolutely blowing my mind. Belcalis Almanzar is absolutely dripped in finesse tonight #Okurrrrr.
For a while, it wasn't certain if Cardi B was going to grace us all with her presence on the Met Gala red carpet. After all, the musician is pregnant with her first child, due to give birth pretty soon, and she's been performing nonstop. I'm all for a hardworking woman who can inspire us all to push ourselves, but even I wouldn't have been disappointed if she didn't make an appearance. Nevertheless, she rallied (like the true, tough New Yorker that she is) and gave us a supremely perfect Met Gala moment.
Stepping out on the red carpet on May 7, 2018, the 25-year-old rapper wore an absolutely stunning ivory-colored gown from Moschino by Jeremy Scott. The bedazzled dress featured a thigh-high slit and belt from which a long, voluminous skirt fell behind her. Scott accompanied her during her entrance, wearing matching bejeweled pants and a jacket.
Cardi's hair was styled down behind an ornate ivory headpiece with blue and pink jewels, and she wore a matching, bejeweled ivory collar choker. When it came to her beauty look, created by celebrity makeup artist Erika La Pearl, she donned a cut crease with black and purple eyeshadow, deep red lips, and KISS Lash Couture Triple Push Up Lashes in "Teddy" ($6.99, ulta.com). Yes, you can cop Cardi's statement lashes for less than $7. "I really wanted to create a beautiful, standout cat eye for Cardi's first Met Gala, and I loved the way KISS' new Triple Push Up lashes made her eyes look," says La Pearl. Hard same on that one.
IDK about you guys, but this look feels very reminiscent of Beyoncé's impeccable costume during her performance at the 2017 Grammy Awards. You know, the one where she looked like a legit golden goddess sent down from heaven to bless us all with her sheer existence? In all honesty, Cardi's look feels even more fitting with the theme, given this comparison, considering that Beyoncé is an actual saint, and Pope Francis is just slacking on canonizing her.
Neilson Barnard/Getty Images Entertainment/Getty Images
Kevin Winter/Getty Images Entertainment/Getty Images
It's interesting to see how Cardi's overall very literal look fits in with this year's Met Gala theme: Heavenly Bodies: Fashion and the Catholic Imagination. When this year's theme was confirmed, it was almost a given that some celebs would push the boundaries and make a statement with their looks. This isn't at all surprising, considering the brains behind the Met Gala and behind the extravagant interpretations of the theme don't tend to shy away from controversy.
What I love about Cardi, aside from her killer music, is that she isn't afraid to step outside of the box and break the rules when it comes to fashion. I mean, her whole being exists outside of the box in the best way possible. Whether it's her fashion sense, her interviews, or her ability to disrupt the industry, Cardi B thrives on being unconventional and surprising everyone. And in my opinion, this is exactly why her look killed it. After all, the purpose of the Met Gala (besides being an annual fundraiser for the Metropolitan Museum of Art's Costume Institute) is to celebrate the avant garde, ornate, diverse, and creative artistry in the fashion industry. And if you ask me, Cardi B perfectly encompassed each one of those things with her look.