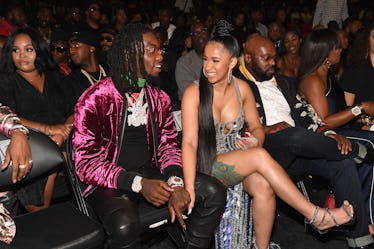 Cardi B's Description Of Her Secret Wedding Has Me Cheering For So Many Reasons
Paras Griffin/Getty Images Entertainment/Getty Images
Cardi B is officially a married lady. On June 25, the rapper confirmed that she's been married to her fiancé (now husband) Offset for close to a year, and it's honestly impressive that the two managed to keep their nuptials a secret for that long. Fans might be disappointed that the hip-hop couple didn't share their wedding with the world — but Cardi B clapped back about her secret wedding to Offset and I totally get where she's coming from. Plus, the details that she did share about her wedding are so incredibly perfect, and now I can't imagine her getting married any other way.
TMZ first broke the news on June 25 that Cardi and Offset married in secret in September 2017. The news outlet somehow discovered the pair's marriage certificate, registered in Fulton County, GA. During the BET Awards on June 24, Offset's rap trio Migos won best rap group, and when they went onstage to accept their awards Offset thanked his "wife" Cardi, which is when speculation about their marriage likely began.
After the TMZ report hit the internet, Cardi decided to take the story of her marriage into her own hands and explain her decision to keep her union a secret. In a Twitter post, the rapper uploaded a screenshot from her Notes app where she said,
There are so many moments that I share with the world and then there are moments that I want to keep for myself! Getting married was one of those moments! Our relationship was so new breaking up and making up and we had a lot of growing up to do but we was so in love we didn't want to lose each other.
Cardi also clapped back at how nosy the public is about her personal life. She added in the tweet that, "This why i name my album 'Invasion of privacy' cause people will do the most to be nosey about your life" — and I totally can see why Cardi would be frustrated. Her marriage was clearly meant to be private, and I too would be pissed if my secret was discovered.
If I were a celebrity in a relationship and got as much media attention as Cardi and Offset do, I definitely would keep my wedding a secret too. Cardi's decision to have this major moment in her life be as private as possible makes so much sense, and I don't think anyone should be annoyed about this.
Cardi continued on to say that she and her hubby just decided to wake up one morning and get married, which is actually so romantic. The guest list was extremely limited, too — Cardi explained that it was "just the two of us and my cousin," along with the officiant. The wedding wasn't glamorous at all either. Cardi wrote that she "said I do, with no dress no make up and no ring!" Not having a over-the-top wedding seems like it wouldn't be Cardi's style, but if she wanted to keep the day private it sounds like having her wedding be as low-key as possible was perfect for her.
Cardi and Offset "got engaged" in October 2017 during a concert in Philadelphia, when the rapper popped the question in front of thousands of screaming fans. But now as it turns out, the couple were already married for at least a month before the public proposal. Cardi addressed this in the Twitter post as well, saying that her beau still proposed after they were married anyway to give her that special proposal moment. She stated,
I appreciate and love my husband so much for still wanting for me have that special moment that every girl dreams of when he got down on his knee and put a ring on my finger and he did that for me!!
Even though Cardi and Offset's marriage timeline is kind of backwards, the two seem so incredibly happy and in love. The couple is also expecting a child sometime this year, and I'm so excited to see this little hip-hop family continue to grow. Congratulations to the newly(ish)weds!