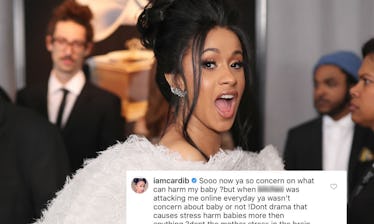 Cardi B Just Slammed Haters For Criticizing Her For Clubbing Around Smoke While Pregnant
Christopher Polk/Getty Images
It's almost Cardi B baby season, y'all! The world has been waiting in anticipation to hear when the "Bodak Yellow" rapper's baby is due and with that excitement comes an unusual amount of attention on Cardi and her activities. Despite being several months along, it doesn't look like pregnancy has slowed the rapper down one bit, like, at all. Cardi B recently gave a fire performance at Coachella, slayed on the Met Gala red carpet, and has been spotted out in the club partying with her fiancé, Offset. Of course, haters are always going to hate. Cardi B's response to haters who criticized her for partying around smokers is intense, but I also wouldn't expect anything less when it comes to a Cardi B clap-back.
On Saturday, June 9, Offset and Cardi B were videotaped dancing in a club and singing along to music. Offset was blowing large puffs of smoke very, very close to Cardi's face and fans were not having it. Commenters went wild and called them things like, "immature," "ignorant," "dirty," and "disrespectful." They felt Offset was out of line smoking near his baby's mother and that she should have said something to him or moved away. Here's the video:
Look... Is Cardi B her own women? Yes? And is there a rule stating she has to stay home and knit while she waits for her baby to arrive? No. Is it a lot of smoke? Sure. But, does she care what you think? Nope.
Cardi B's response? Essentially, "Don't worry about me."
She wrote a biting comment back at her haters that said:
Sooo now ya so concern on what can harm my baby? But when b*tches was attacking me online everyday ya wasn't concern(ed) about baby or not! Don't drama that causes stress harm babies more than anything? Don't the mother stress in the brain and in the body [harm a baby?] But yaaaa ain't gave a f*ck right? Cause it was entertaining to ya. Don't worry about me and mines and what I'm doing. Me and my baby is great.
People also reports she left another comment saying, "SINCE YA CARE AND ARE SO CONCERN[ED] about my baby … Hit me in my DM for my registry and send me some [Pampers] and baby formula … Don't just comment like you care about my baby show it!! SEND THEM PAMPERS!"
She has a point. It's easy for criticizers to find something wrong with everything, even if their points and arguments contradict each other. One thing is for sure, Cardi B truly (like really-really) doesn't care what anyone thinks. After she first announced her pregnancy on SNL, she later popped by iHeartMedia's Power 105.1 The Breakfast Club show to talk about motherhood. She told Charlamagne Tha God,
It just really bothers me and it disgusts me, because I see a lot of women online like, 'Oh, I feel sorry for you. Oh, your life is over.' It's like, why can't I have both? Why do I have to choose between a career and a baby? I want both.
She added, "I'm a grown woman, I'm 25 years old, I'm a schmillionaire... I'm prepared for this."
Now, it's just a waiting game for the baby's arrival. After doing some extensive sleuthing, some folks think Cardi B is due as early July. Until then, one thing is clear. She's going to whatever she wants, whenever she wants, with whoever she wants, and does not care what you have to say about it, OK?
Check out the entire Gen Why series and other videos on Facebook and the Bustle app across Apple TV, Roku, and Amazon Fire TV.