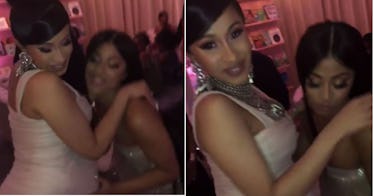 The Videos Of Cardi B's Baby Shower Prove It Was Lit AF, Which Isn't Surprising At All
Instagram/OffsetYRN
I've never had a baby shower, nor have I ever been a guest at one. But I've seen plenty of these things on TV and in movies, and TBH, they've always looked pretty boring. A ladies luncheon with cakes made out of diapers and round after round of "Who Knows Mommy Best?" Yawn. Sorry, but that's just so not my jam. Which is why I was seriously blown away by the videos of Cardi B's baby shower on Instagram. Because that party was lit AF, you guys, and I'm seriously bummed I didn't score an invite!
I mean, I don't actually know Cardi, so it's all good. And for the record, I'm not even all that surprised her baby shower was straight fire. After all, she pretty much mapped the whole thing out for a June story in Rolling Stone. "I want a lit baby shower," she explained. "My baby shower's not starting at no 5:00. My sh*t is going to start at 9 p.m. because that's how I celebrate, that's how Caribbean people celebrate. I don't like baby showers that be at 5 p.m. in the backyard, cooking, eating hors-d'oeuvres. Nah. Sh*t, I might even drink some red wine!"
Whether she did drink some red wine or not remains to be seen. But there was a Bardi Baby Bodega fully stocked with drinks at the party. Check it out:
So freaking cool, right? Cardi definitely came through on her promise to have a dope party. The theme of the shower was "A Bronx Fairytale," and the "Bodak Yellow" singer flew 60 people down to Atlanta for the big event, which took place on June 26, and looked way more hype than any baby-related event I've ever been to.
ICYMI, Cardi is expecting a little girl. According to the many videos Cardi's shower attendees shared on social media, in addition to the baby bodega, there were pink balloons, hundreds of pink roses, and even a throne, which Cardi happily posed upon with her husband, Migos rapper Offset, who was decked out in all black.
OMG did you see him kiss her hand? Name a cooler couple, I dare you. I mean, just look at them!
Also, are thrones now a thing? Because I really feel like I need one in my office. And I'll take that whole necklace situation she's got going on, too, while we're at it.
The couple recently floored their fans when they revealed that they got secretly married eight months ago. And when the duo made their entrance into the shower, they were definitely giving off that couple-on-top-of-the-cake vibe:
I need to pause here for a sec to discuss how amazing Cardi looks in that white dress with all of her jewels. What a QUEEN! She is legit GLOWING, and look at that gorgeous belly!
How does she look so incredible when she's this far along? HOW?! And are those ballerinas on the floor in the background? So. Many. Questions.
Meanwhile, check out our girl tearing up the dance floor with her little sister, Hennessy:
Bet she can't wait to be an aunt!
TMZ first broke the news on June 25 that Cardi and Offset married in secret in September 2017. Cardi hit up Twitter the next day to explain why the newlyweds decided to keep the fact that they were hitched on the down-low.
"There are so many moments that I share with the world and then there are moments that I want to keep for myself!" Cardi wrote. "Getting married was one of those moments!"
Well played, guys! I just hope they aren't planning to keep the news of their baby's arrival a secret, because I seriously can't wait to see that little munchkin (who's due sometime in early July) make her big social media debut.
Here's hoping it all goes down on July 8, which just happens to be MY birthday. If I share a b-day with Cardi's mini-me, that totally makes me, like, her great aunt twice removed or something, right?
Just go with it, OK?