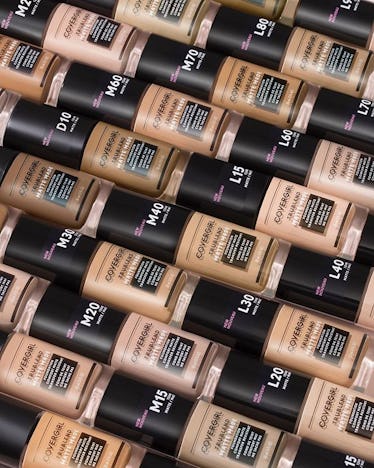 CoverGirl Is Dropping A $10 Foundation In 40 Different Shades, So Swatch Out Fenty
When Fenty Beauty released a range of foundation that was available in 40 shades, the beauty world was forever changed. Brands quickly understood the need for inclusive makeup lines and began expanding their own offerings. (About time!) CoverGirl's TruBlend Matte Made Foundation is proof that the entire industry — from luxury to drugstore — is taking action to ensure their products are accessible and applicable to all consumers, and what a beautiful thing it is.
The new Matte Made foundation will become part of CoverGirl's existing TruBlend range of complexion cosmetics, except instead of being offered in 14 shades (the range's current offering) it's going to be offered in 40. That's right, Fenty, a drugstore brand is here to give you a run for your money! Along with its impressive shade range (it ranges from fair to medium, and tan to deep) the foundation also boasts a formula that claims to be smudge resistant, to minimize pores, and to be comfy and breathable. As described on the brand's website, "From your favorite COVERGIRL foundation line comes a matte formula that isn't drying or cakey. TruBlend Matte Made's formula is developed with flexi-hold technology that creates a strong, yet flexible film on skin for durability and comfort, while the mattifying powders absorb oil and minimizes pores for a soft matte, flawless finish. Up to 12 hours of wear." Um, okay, sold?!
According to a press release from the brand, the liquid foundation offers medium to full coverage and will range anywhere from $8.49-$11.49, depending on where it's being sold. Considering Fenty foundation will run you $34, this might be an awesome way to save a few bucks a few times a year.
As revealed in a post on CoverGirl's Instagram page, the foundation won't officially drop until June. But if you're curious to see if it really works and what it looks like before then, you only need to look as far as today's Met Gala coverage. Katy Perry, who is a CoverGirl ambassador, had her entire makeup look for the annual fashion event done with CoverGirl products, including the new TruBlend Matte Made Foundation. In a press release, makeup artist extraordinaire Michael Anthony, who did Perry's look for the event, said, "I wanted Katy's skin to have a matte finish so we could control the highlights on the rest of her face. The new COVERGIRL TruBlend Matte Made foundation was perfect for this because it would stay on all night but also be comfortable, while giving her that matte finish we were going for. It really gave the perfect smooth canvas to let her eyes and lips stand out and glow. She looked very heavenly and ethereal – perfect for tonight's theme!"
I couldn't agree more. Perry always looks gorgeous but last night she looked like a liter angel, thanks in part to her heavenly complexion and makeup. If it really works as well as it appears to, I will absolutely become a fan.
While CoverGirl is the latest drugstore brand to make their offerings way more inclusive, it's certainly not the first. As Teen Vogue points out, Maybelline expanded their Fit Me foundation shade range to include 40 options in 2017. The cherry on top? Their foundation costs a mere $6.
The movement towards inclusivity appears to be running at full speed ahead, meaning we'll likely see more and more brands expanding their offerings until 40 shades isn't something to be praised for, but rather is considered the norm. So long as vanguards like Rihanna continue to make products with all women in mind, I think we have a good chance of eventually reaching that goal.