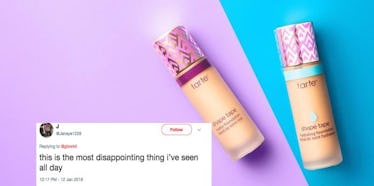 Tarte Is Launching A New Shape Tape Foundation, But Here's Why The Internet Isn't Happy
Tarte/Janaye On Twitter
Last week, it was confirmed that one of the most-loved concealers of all time would be expanding into a new product range, and people unsurprisingly freaked out. But when the Tarte Shape Tape Foundation shades were revealed, what should have been a joyful product launch soon turned very, very sour.
To give you some background information on the product, we must first start with Tarte Shape Tape Contour Concealer, which launched in 2016. It immediately became a cult favorite product for its hydrating and long-lasting effects, as well as the incredible coverage it provides. Beauty bloggers, magazine editors, and fans were all singing its praises, and it quickly became one of the all-time favorite concealers out there. It became so popular that at the end of 2016, it sold out for weeks, sending fans into a worried tizzy about when and where they would once again be able to cop a tube.
Taking this all into account, you can see why fans went absolutely nuts when Tarte confirmed they would be releasing a range of Shape Tape Foundation ($39, tartecosmetics). The brand had previously hinted at the product on Instagram, when they posted a video of tubes that looked like Shape Tape Concealer, but slightly larger. So when the official product announcement came, it was a glorious day for the beauty world, indeed.
But thanks to some impossibly sneaky sleuthing by Instagram account @Trendmood1, fans got to preview the collection before it launched. That's when things went terribly, terribly wrong.
@Trendmood1 posted screenshots of the color ranges for both the matte and hydrating foundations, which each comes in fifteen shades. Herein lies the problem: there appears to be only be two options for darker skin tones within the whole range, while there are 13 options for lighter skin tones. It's clear that Tarte took immense care in accommodating undertone needs and shade shifts on the lighter end of the spectrum, but completely failed to do so for skin on the darker end.
Twitter was justifiably not happy about it.
Hi, Tarte. It's 2018. How on earth are you still releasing non-inclusive product collections? People with all different skin tones buy and wear makeup — as a mega brand, why is it so hard to not cater to all of them?
After the backlash, Tarte revealed that they are planning on expanding the shade range by 10 hues, which will hopefully be for darker skin tones. According to POPSUGAR, "A rep from Tarte explained to POPSUGAR that even when Shape Tape Foundation was revealed, the new colors were already in the works. Tarte reps explained that it could take time to get the full range finished and flawless."
The fact that Tarte would release an incomplete collection that would specifically alienate certain customers is totally not cool. The brand released a statement via Instagram stories surrounding the controversy, in which they apologized for their misjudgement:
"You all know by now that we revealed our much anticipated shape tape foundation . . . & the final shade range that we launched was definitely not a full representation of all of you. It may be too little too late, but we can assure you this was not meant in any kind of malicious way. We all just got caught up in #shapetapenation and seeing your tweets asking for it . . . We wanted to get the product out as fast as possible, and we made the decision to move forward before all the shades were ready to go. We know there is no excuse & we take full responsibility for launching this way. We lost sight of what's really important in this industry, & for those who feel alienated in our community, we want to personally apologize. We're doing everything in our power to bring those unfinished shades as fast as we can, at any cost. WE CAN AND WILL DO BETTER."
I'm glad the brand is taking responsibility and learning from the mistake, but I wouldn't be surprised if they lost themselves a lot of customers. Only time will tell what the 10 new shades look like — and if every customer will see their skin tone represented.