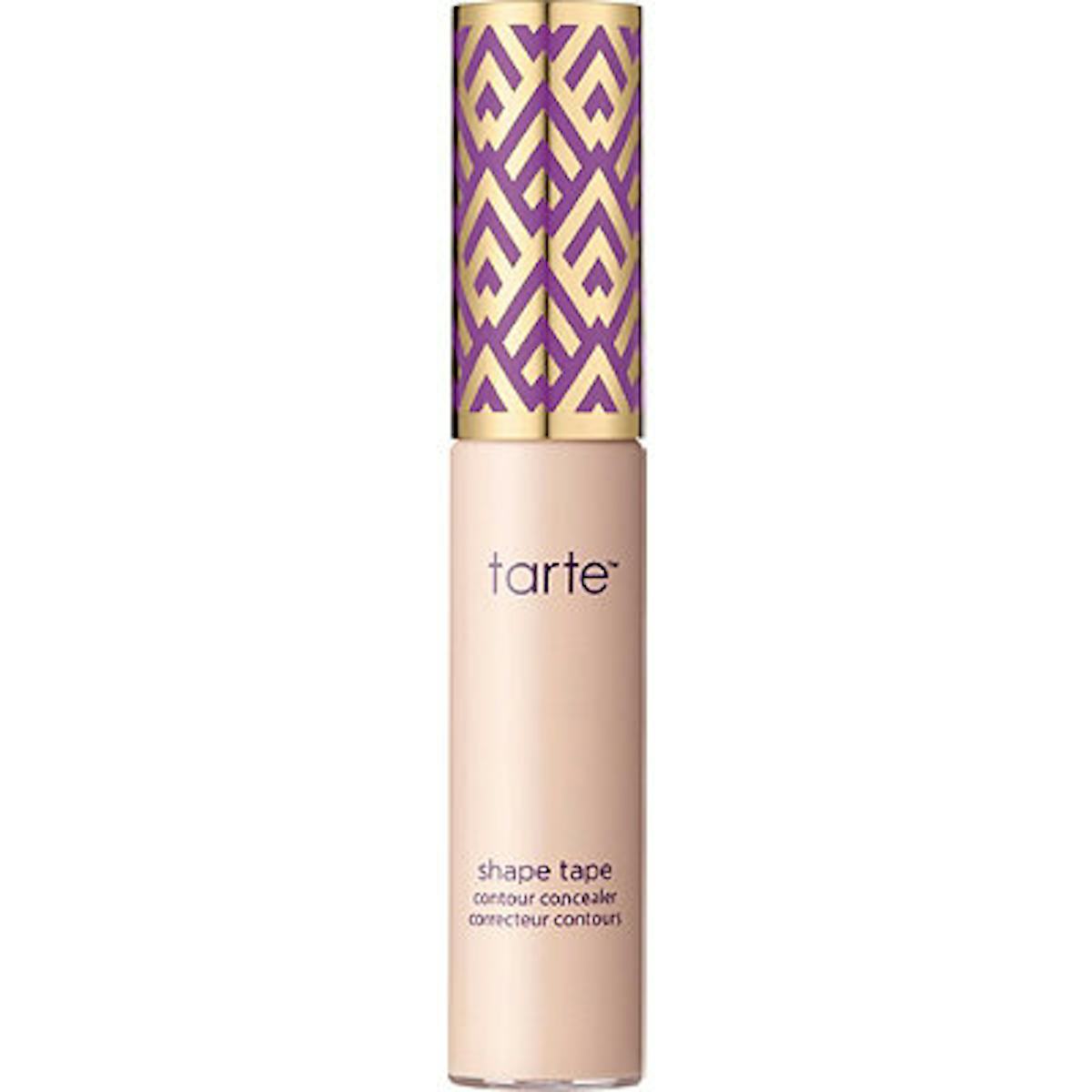 This Cult-Favorite Concealer May Become A Foundation & Twitter Can't Handle It
If you're a beauty girl through and through, then you're probably asking what every other product obsessed person is wondering right now: is Tarte releasing Shape Tape foundation? It's an excellent question and our answer, in short, is most likely. Thanks to some very revealing posts to social media by Tarte and some excellent digging by Tarte fans, it's looking like the much-asked for product is nearly here. Rejoice! 2018 is looking up already, folks.
Shape Tape concealer first hit the scene in 2016 and immediately gained a cult following for its hydrating and long-lasting qualities. The shade range of 14 colors has also garnered praise (although it's got nothing on Fenty Beauty, in that respect). The formula provides incredible coverage while softening the look of fine lines and pores. Any concealer that can cover up a dark tattoo sleeve pretty dang convincingly is an ace product, in my book. It's insane, really. As a cherry on top, the product is completely vegan and isn't tested on animals (Tarte is a PETA-certified cruelty-free brand).
Shape Tape Concealer, $27, Tarte
At a totally doable $27, it's a unicorn of a product. To put it into perspective, NARS Radiant Creamy Concealer goes for $30, while Yves Saint Laurent's Touche Éclat concealer will run you $42. Neither of them provide coverage like Shape Tape. I've been using Laura Mercier's Secret Camouflage Concealer ($35; lauramercier.com) for the past year or so but I just might need to switch after researching Shape Tape a bit more. Beauty bloggers and influencers alike seemingly couldn't get enough of the product upon its release, and before long it was appearing on every blog and website around.
Shape Tape Concealer, $27, Tarte | Radiant Creamy Concealer, $30, NARS | Touche Éclat concealer, $42, Yves Saint Laurent | Secret Camouflage Concealer, $35, Laura Mercier
Shape Tape Concealer, $27, Tarte
Shape Tape became so popular that during the end of 2016 it sold out for weeks. Fans took to Reddit and Facebook in states of desperation before it was restocked in early December of that year. And just last year, Allure named it one of the best contouring products around. Yep, it really is that good.
Yesterday, in a joint post on their Twitter and Instagram accounts, Tarte teased a new Shape Tape product and fans naturally freaked out. The post, which features a short video clip scanning over caps nearly identical to those that top Shape Tape concealer, had a caption reading, "Are you ready to shape what your momma gave ya in 2018?" The caps look slightly larger than those on the existing tubes of concealer and would lend themselves much better to bottles of foundation.
Shape Tape Concealer, $27, Tarte
Fans picked up on the subtle cap difference and set Twitter ablaze with posts expressing their questions and excitement:
While it's possible that Tarte could simply be releasing a different finish of its beloved concealer, a Tweet posted a year ago suggests otherwise. In January of 2017 beauty blogger Kathleen Lights Tweeted at Tarte asking for a Shape Tape foundation, to which the brand responded, "We were thinking the same thing…"
We all know it can take a long time for beauty products to be developed, so it's very possible that the foundation was already in the works at that time. And I mean, come on, that response is pretty definitively stating the foundation is on its way, whether it's what Tarte just teased or not.
Along with the product's true identity (Tarte is on some Sherlock Holmes sh*t!), its release date also has yet to be announced, meaning hardcore beauty fans will have to keep their eyes peeled on social media for when the mystery item might drop. Maybe they'll follow in the steps of Kylie and announce it ver Snapchat, anything is possible! Please, Tarte, help us begin 2018 with a super exciting bang.