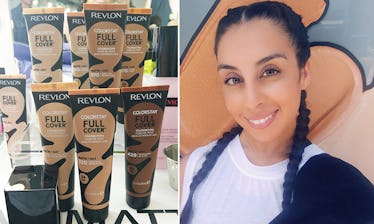 I Wore This $14 Foundation To A ModelFit Workout & It Held Up Like No Sweat
Stephanie Montes
I'm just going to come out and say it: I sweat a lot! And not necessarily on my body, but on my face. Running out the door in the morning can easily generate a sweat mustache thick enough to wash off the foundation above my upper lip. Even a really hot summer day can force me to perspire sweat beads everywhere from my forehead to my nose, so imagine how reluctant I was when I got invited to do my own Revlon Colorstay Full Coverage Foundation review while working out (of all things).
I knew I was in trouble even before I got to my workout class. It's June in Los Angeles, and my car thermometer says it's 88 degrees outside. I'm fine right now because I have the air blasting in my face and I'm not wearing makeup, yet. As soon as I make it to ModelFit in West Hollywood, a Revlon makeup artist starts applying a full face of foundation on me, which is usually fine, but it feels weird this time since I'm sitting in a gym right before a workout. She uses a sponge to apply the brand new Colorstay Full Coverage Foundation ($14; ulta.com) and I'm so grateful that it doesn't feel thick or heavy — so far, so good.
Once she finishes my entire face (blush, lipgloss, and all), I take a look in the mirror and I'm pleasantly surprised. The red spots around my nose and chin are completely covered, but my freckles are still showing. Think: Meghan Markle wedding makeup — flawless, but also still natural-looking. But most importantly, it makes my skin feel like velvet. And it's matte, which is perfect because I have a blindingly oily T-zone.
Here's my shade: Toast 410. It's a little darker that I usually go, but I laid out all weekend and my face no longer matches my body. FYI: You can also go a few shades darker in summer.
The class starts and maybe 10 minutes in, I can already feel my body temperature beginning to rise and sweat beads starting to form. I'm freaking out because I just know I'm about to be the girl with thick, full-coverage foundation running down my face in the middle of our workout.
To be clear, I never wear makeup to the gym. I get there bare-faced and ready to kick *ss. My philosophy is if I have to take time out of my day to work out, I better make it worth it. By the time I leave the gym, my face is flushed, dripping in sweat, and my hair is in disarray.
I sometimes see girls at my gym wearing a full face of makeup, and I'm not judging, but if it were me, I'd be too afraid to break a sweat, and that's the whole point isn't it? On the other hand, I think, the gym is packed with hot guys. Maybe they're trying to impress them? But from personal experience, a full face of makeup on the treadmill isn't going to hook a guy. Take it from me, I met my husband at a gym, and I wasn't wearing an ounce of foundation. In fact, I did more push-ups than he did — I think he liked that.
By the time the workout is over, I'm sweating profusely, but thankfully I can wipe off my makeup on towel. I blot my face, and surprisingly find no traces of makeup on the black towel. The first thing I do is check the mirror for streaks of foundation leading from my forehead, down to my chin, but I can't find a single one. I sweated through the foundation, patted dried my face, and still my foundation is completely in place. It still has that velvety blur to it, and I still feel like I'm wearing nothing.
I won't be a makeup-wearing gym goer any time soon, but if it lasted me an entire class of squats, pliés, and arm raises, imagine what it could do for me this summer. Finally, I can enjoy a day in the sun without having to worry about that awkward missing patch of makeup above my upper-lip.