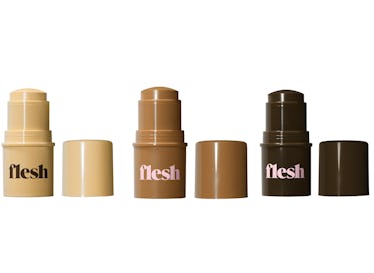 Revlon's New Beauty Line Has 40 Foundation Shades & You Can Swatch 'Em All At Ulta
Ask a beauty buff to name an influential brand from the past year, and Fenty will undoubtedly come to mind; the brand rolled out 40 foundation shades when other brands settled with a quarter of that number. Post-Fenty, companies seem to have followed suit: Flesh foundations prove that makeup can (and should) be shade-inclusive.
According to reports fromWWD, Flesh is the brainchild of Revlon's Chief Creative Officer and former beauty editor, Linda Wells, who has been contemplating the idea of a super-inclusive makeup line for years (as far back as two decades, the mag reports). Flesh will finally come to life at the end of June 2018, WWD reports, where it will be sold exclusively at Ulta and on Ulta.com.
So, what exactly does this new line entail? Firstly (and most importantly), it caters to an incredibly broad range of skin tones — a brand ethos that goes beyond foundation shades. Case in point: the line includes 14 highlighter shades, 8 blush hues, and 30 lipstick tones, according toWWD. No word on the precise color cosmetic shades yet, but I'm envisioning the perfect nude lipstick for every skin tone (because, as Wells points out in an interview with WWD, there is no such thing as a universal nude lipstick).
Oh, and then there's the Flesh foundation. From my cursory sneak peeking, I can confirm that the packaging is a minimalist's dream. Each plastic, cylindrical tube features the word "flesh" written across the front in simple, funky font (yes, these babies are definitely #shelfie material). The foundations appear to be relatively compact stick foundations — AKA the type of product you could throw into a beach bag and use for touchups whenever the mood strikes. In other words, the Flesh foundation looks like it will be the ideal foundation for girls (and guys) on the go (read: literally anyone and everyone living in 2018).
Let's be honest: the perfect foundation shade often requires some formula mixing and matching, but nobody has time for creating cocktails on the reg. We also don't have time for wondering whether our faces are a different color from our necks (you guys, I know I'm not the only one with the two-toned foundation paranoia). I'm hoping that Flesh will quell any and all of my insecurities related to blending and foundation demarkation. I'm thinking it will, because the brand is slated to roll out a whopping forty (yes 4-0!) foundation hues — the same number of shades Fenty launched back in the day.
Coincidence? I think not. But that's not to say the formulas themselves will mimic Fenty's. I haven't given the Flesh foundation a try yet, but judging from the name and the brand's minimalistic vibes, I'm placing bets that it'll be a lightweight formula with a radiant, glowy finish.
Despite the parallels one could draw between Flesh and Fenty, I do think Flesh has its own distinct thing going on — separate from Fenty, and separate even from its parent company, Revlon. In fact, nowhere on the Flesh packaging does it advertise Revlon. Plus, Flesh will be sold at a higher price point than your fave drugstore foundation — and, as I previously mentioned, it will be available exclusively at Ulta.
I can't wait to get my hands on this new line. As someone who has incredibly pale skin yet self-tans more than average, I'm always searching for a rotation of very specific foundation shades — and aren't we all? After all, skin tones are incredibly diverse, as anyone who wears foundation (or has, well, flesh) can attest. Flesh (and Fenty) FTW.