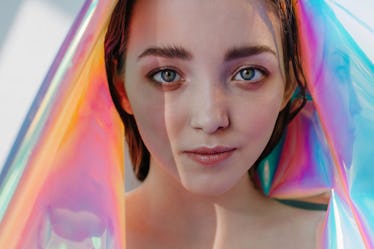 Celeb Makeup Artists Reveal The Biggest Fall 2018 Beauty Trends You'll Actually Want To Try
Every year when fall rolls around, I allow myself to indulge in one Starbucks Pumpkin Spice Latte as a way to acknowledge the start of the new season. Other than this, the only other real change to my daily life beyond the addition of some cute sweaters to my wardrobe is a shift in my beauty routine. Gone are the trends of summer — that effortless, dewy skin and those lightweight, tinted lip balms — and before me lie a variety of fall 2018 makeup trends to choose from. This thought is sweeter than the taste of my Pumpkin Spice Latte, TBH.
So, what are the beauty trends popping up as autumn rolls around? To get the scoop, I reached out to a ton of my favorite professional makeup artists for their thoughts and advice on nailing all the newness.
Glossy Eyes
Makeup artist Jami Svay, who has done glam at fashion shows for major labels such as Ralph Lauren, Oscar de la Renta, and Rodarte, knows exactly what trends will be in for fall, as she spots them the moment they hit the runway. "Glossy eyes are a great trend for fall, right off the runway of Tom Ford's Fall 2018 show," she shares. "I love how it gives your makeup look a slick, dewy sheen" Total Kate Moss vibes! To get the look, Svay advises using the Flesh Beauty Fleshpot Eye & Cheek Gloss ($20, ulta.com), and applying it "just in the center of the lid, it makes it easier to apply when you're on-the-go." Noted!
Edge Features
Hoping to amp up your style for fall? According to makeup artist Paloma Romo, "the edgy look is coming, and it's fierce!" To achieve a cool-girl look, pair your glossy lids with full, organic brows for a foolproof combo. "For brows, the fuller the better! Make sure to just draw strokes simulating brow hairs. I've been using the matte Mehron E.Y.E Powder ($9, mehron.com) to accomplish this look, and I apply it with an angle brush."
Skin Drops
Mickey Williams, makeup artist and founder of Share The Glam, has also been doing some major trend-spotting for fall, and predicts that, this season, our foundation routines will do a total 180°. According to Williams, the must-have formulas for foundations are, in fact, all about the drops — meaning, drops of foundation that you can just add into other products.
"Why buy a pre-made shade and formula when you can put foundation drops right into your day cream or SPF? Want a little more coverage? Add an extra drop," she says.
Williams has been using skin drops for years by way of an airbrushing system, but says that the same products can work just as well at home. "Typically, most people do not have an airbrush, so just mix up your formula on the back of your hand and apply to skin. It's really just insanely gorgeous," she explains. "I usually concoct one or two drops of Isdin Skin Drops ($52, isdin.com), two drops of a hyaluronic acid serum, like the Pure BioDerm Hydrating Serum ($38, purebioderm.com) and a lightweight toner like the Jurlique Rosewater Balancing Mist ($38, jurlique.com) to mix up the prettiest foundation you've ever seen."
Fresh AF Skin & Bold, Jewel-Toned Lips
According to makeup artist Joanna Schlip, who has worked with celebs such as Denise Richards and Ellen Pompeo, the perfect fall beauty look is all about expensive-looking skin and a bold lip. To get a stunning finish, she says it's "all about the prep," and recommends layering the Smashbox Photo Finish Primer ($36, smashbox.com) underneath the Giorgio Armani Luminous Silk Foundation ($64, giorgioarmanibeauty-usa.com), and to finish by covering up imperfections with Laura Mercier Secret Camouflage Concealer ($35, lauramercier.com). Even with multiple layers of product, the final product, Schlip says, will look like "dewy, naked, well-kept skin."
For the lips, Schlip notes that "jewel tones are a strong trend," and recommends a drugstore favorite: the Physicians Formula Healthy Lip Velvet Liquid Lipstick ($8, physiciansformula.com) in warm berry shade "Vitamin Beet" or cool red "Flight Free Red-icals."
Blush, Blush, Blush
"This fall, I see blush making a major statement," insists celebrity makeup artist Raul Otero, who has worked with everyone from Naomi Campbell to Camila Cabello, as well as tons of Victoria's Secret models, such as Alexina Graham and Nadine Leopold. "Wind-flushed cheeks can be achieved with Mehron's CHEEK Cream ($8, mehron.com). Just glide on the product using fingers or a brush starting with the apple of the cheeks, dabbing and blending until you've achieved a desired flush."
Focus On Skincare
The real secret to making sure all these new makeup trends look the best they can? Focusing on the skincare underneath, says makeup artist Neil Scibelli, who has worked with major celebs such as Elle Macpherson. "Overall, I think we're seeing season-appropriate rules being broken more and more these days in beauty. And I think we're seeing a lot more simplicity and an emphasis on skincare — which I love. I do think we're seeing fresh, natural skin being celebrated even more these days."
How can you get in on the current skincare craze? "Face oils have been on trend, and I think we'll continue to see variations of them with the colder months approaching," says Scibelli. "Some of my favorites right now are the Maya Chia Pure Supercritical Omega-3 Chia Seed Oil ($60, mayachia.com) and the M-61 Hydraboost Face Oil ($64, m61labs.com)."
Emmy-winning makeup artist Andrew Sotomayor has a skincare favorite as well: the Zelens Power A High Potency Vitamin A Treatment Drops (£120, zelens.com). "This is a high-performance retinol treatment with zero animal ingredients. I've seen for myself that it makes your skin look smooth without even having to use a makeup primer," he raves. "Your skin looks better with or without makeup and it makes your morning routine simpler." Bonus points for the fact that it's cruelty-free!
Not sure if any of the above trends feel "you" enough? Sotomayor insists it's no big deal: "In today's world, beauty trends have become more varied than they ever have been." So even if your new favorite product or approach doesn't show up on a list of fall trends, that doesn't mean you can't totally rock it!
Not only am I ready for fall weather, but I'm now officially ready for fall glam, too. Anyone want to hit up Sephora later today? I've got a long, long list of soon-to-be favorites to snag, thanks to these makeup artist-approved recs.