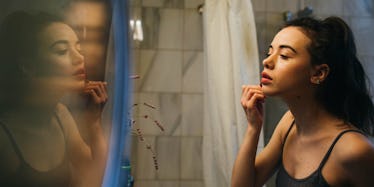 Beauty Overhaul: The Proper Way To Switch Up Your Skin Regimen For Fall
As cool weather approaches and it becomes enjoyable to walk to work again, you should consider tweaking your skincare regimen.
While summer skincare focuses on sun protection and keeping oil to a minimum, autumn calls for combating dry skin and promoting skin renewal -- so that morning routine you've mastered for the last three months is now old news.
No need for an extreme Kylie Jenner beauty overhaul, though. Some of your favorite skin products can still apply.
We consulted Dr. Gervaise Gerstner, L'Oréal Paris Consulting Dermatologist, to teach us how to transition our skin care routine come fall.
Learn and personalize.
Get your skin down to a science. Know the parts that are dry or oily as well as you know Olivia Pope's favorite handbags.
Though most people have combination skin, its chemistry can change seasonally.
Dr. Gerstner explains chilly air and in-home heaters during cooler months tend to dry out skin, so she recommends moisturizing even if you have oily skin.
Keep it simple and creamy.
Even if shaving is no longer top priority, wearing long pants is no excuse to neglect your skin's overall health.
Don't succumb to dry, ashy skin on account of brisk winds. Dr. Gerstner advises,
Look for products that have a richer consistency.
First step: Skip lightweight cleansers or foams and switch to a creamy cleanser or a cleansing oil that nourishes and replenishes your skin. Store watered down lotions or moisturizers and arm your skin with "extra moisture and hydration."
If your skin is oily and/or acne prone, however, Dr. Gerstner reminds you to "stick to something lighter year-round."
Don't skimp on SPF.
Fall's shorter sun cycle and cooler days can trick you into skipping daily sunscreen. But without a doubt, sunscreen is still as necessary as coffee in the morning. Simple rule of thumb? Wear at least SPF 15 on your face, neck and chest.
This beauty rule applies to your lips as well.
Buy some lippy equipped with SPF to protect them from skin cancer, especially on days when wine tours and music fests are on the itinerary. Keep them kissable in case Drake needs a rebound girl.
Maintain simplicity.
Stop going to sleep without washing your face, ladies! Next-day eyeliner is not cute, no matter how you try to rationalize it.
Dr. Gerstner suggests refraining from washing your face in the morning to avoid drying your skin out.
she says,
If you have more oily/acne prone skin, you can use a gentle cleanser.
Before bed, begin with washing your face using a Clarisonic and a creamy cleanser. Then, use a glycolic pad (leaving it for five minutes) three times a week and follow with a moisturizer.
Hang on to your summer goals.
You don't have to completely ditch your summer beauty goals for dark lipstick and moodier eyeshadows.
Still want ScarJo's dewy, glowing skin? Use a BB cream or tinted moisturizer like L'Oreal Paris Youth Code Dark Spot Correcting & Illuminating Serum Corrector to keep your skin summer-bright.