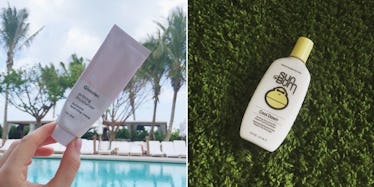 7 Best Lightweight Lotions That Won't Make You Drip Sweat All Summer
In the thick of summer, we leave our homes as clean, scented goddesses only to return later at night as the sweaty, miserable victims of an unforgiving heat wave.
There's a fine line between moisturizing your skin and having it become a personal-sized oil slick, so listen up: The key to fresh skin during the summertime is finding the perfect formula.
Contrary to popular belief, lotion doesn't have to sit heavily on the skin like a slick layer of grease.
With the right products, you'll actually feel cooler.
Maybe you can't stand the feel of moisturizer or maybe break out nearly once a week, regardless, we've got the perfect picks to keep your skin shine-free all summer long.
1.
Origins GinZing Energy-Boosting Moisturizer, $40, Amazon
Best for: The woman who wears a full face of cosmetics, even in sweltering heat.
Price-tag: $26.50 for 1.7 fl. oz.
Why buy? Summer heat can be draining, but Origins GinZing line is designed to pick you right back up again. Customers rave about its fluffy consistency, smooth texture under makeup and delicate citrus scent. It feels more like an Evian spray mist and less like a face blanket.
Priming Moisturizer, $25, Glossier
Best for: The au natural woman who's not planning to put on any makeup.
Price-tag: $25 for 1.7 fl. oz.
Why buy? Glossier's much-lauded base layer blurs pores, banishes redness and firms up delicate facial skin. Meant to be as versatile as possible without sliding down your face, the moisturizer is perfect for hot weather when applied in layers.
Humid day? Just dab on a pea-size dollop.
Mario Badescu Honey Moisturizer, $25, Amazon
Best for: The woman who's always battling a breakout.
Price tag: $25 for 2 fl. oz.
Why buy? Ducking in and out of air-conditioned spaces can make oily skin even more prone to misbehaving. Mario Badescu's Honey Moisturizer relies on a combination of honey extract and orange to keep skin feeling soft while keeping pimples at bay. And its special formula won't leave random beads of sweat forming on your forehead.
Sun Bum Cool Down Hydrating After Sun Lotion, $8, Amazon
Best for: The woman who heads from the ocean straight to the bar.
Price tag: $11.99 for 8 fl. oz.
Why buy? Sun Bum is a fan favorite for its vegan ingredients and animal-free testing policy, but it's also developed a unique formula for skin that's been exposed to UV rays all day long.
Whether your skin is tinged red or just feeling exhausted, the beachy-scented Cool Down uses a combination of Aloe and Cocoa Butter to soothe skin without feeling heavy.
CeraVe Facial Moisturizing Lotion AM, $17, Amazon
Best for: The woman who's stressing her summer plans and is always forgetting something.
Price tag: $13 for 8.4 fl. oz.
Why buy? When you're on-the-go from sharehouse to work to happy hour, you're going to want an all-in-one product to take care of the thinking for you. CeraVe's morning lotion is formulated with SPF 30 and anti-aging properties, making it a well-rounded choice for moisturizer.
Nivea Sun-Kissed Radiance Gradual Tanner & Body Lotion, $6, Amazon
Best for: The woman who hates overheating in the sun.
Price tag: $10.49 for 13.5 fl. oz.
Why buy? There's a lot to think about when it comes to summer skin: SPF, tan and staying cool. Because not all of us are sunbathing bunnies, a thin lotion with a little added color is important.
Nivea's Sun-Kissed Radiance , according to reviewers, provides a self-tan that's pretty much foolproof while keeping skin hydrated.
7. Pacifica Indian Coconut Nectar Dry Roll-On Rich Body Oil
Pacifica Indian Coconut Nectar Dry Roll-On Rich Body Oil, $8, Amazon
Best for: The woman who just can't commit to lotion.
Price tag: $18 for 3.75 fl. oz.
Why buy? Scarred by one too many goopy, sticky creams, some women have eschewed the idea all together. In place of lotion, Pacifica's Body Oil applicator ensures the product doesn't get smeared across your hands.
All it takes for moisturized, lightly scented skin is a swipe of the rolling ball.